Volvo Concept You - Frankfurt Auto Show
by
KBB.com Editors
|
September 15, 2011 8:20 AM
Offering a slightly more focused look at its coming large luxury sedan, the Volvo Concept You expands on themes originally introduced on the Concept Universe that was presented in Shanghai earlier this year. No word on powertrain or chassis bits for its Frankfurt reveal, just an even bolder look and more detail on how the automaker plans to use Scandanavian design sensibilities to carve out a unique position for itself among luxury car makers. According to Peter Horbury, Vice President Design at the Volvo Car Corporation, the production car it spawns "will be unmatched in performance, technology and craftsmanship, but without superficiality or complication."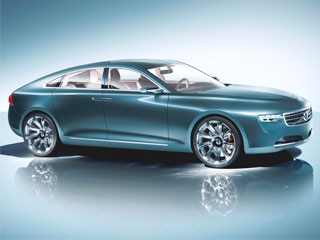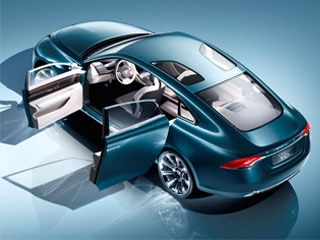 Visually, the Volvo Concept You steps up its exterior styling game with a new, slightly more traditional grille treatment than the one seen on the Universe, bolstered by avant-garde LED headlamps and an even longer, faster roofline. Finished in light-blue liquid-metal paint from DuPont, the Concept you wears new 21-inch polished aluminum wheels wrapped in Pirelli tires and stops courtesy of special brakes developed by Polestar, Volvo's racing specialist ally.
Inside, the Volvo Concept You brings together exclusive Italian fabrics and hand-tufted Swedish designer carpet, handcrafted walnut and brushed aluminum with Dinamica ecological suede and Bridge of Wear leather to create a unique environment for each of four individual seating locations.
"The interior is full of classic forms, materials and textures, used with a twist to create a special contemporary luxury experience. It is exceptionally refined, yet with all the simplistic assets that make Volvo champions of the uncomplicated," explains Horbury.
Looks aside, it's the next-gen control elements that really set the Concept You apart. Intent on making the owner's manual permanently obsolete while ensuring the driver be totally connected and totally in control at all times, the design team used a number of touch screens plus a heads-up display and hand/eye gesture response capability to replace most conventional switchgear and instrumentation in the cabin. According to Horbury, the car can sense who is behind the wheel and automatically adapts itself to that individual's preferences and habits. If that's not enough, the premium Alpine-designed infotainment system in the Concept You features both smaller, lighter electronic components coupled with a bit of as-yet-unreleased speaker technology in the form of a "FreshAir" subwoofer that uses air from outside the vehicle to help create a richer bass experience.
Clearly Volvo continues to make significant strides on its mission to move upmarket and challenge established premium luxury manufacturers. It will be interesting to see exactly how - and when -- the successor to the Concept You will undergo its next evolution.