Volvo Concept XC Coupe previewed for Detroit
by
Bob Nagy
|
December 23, 2013 7:51 AM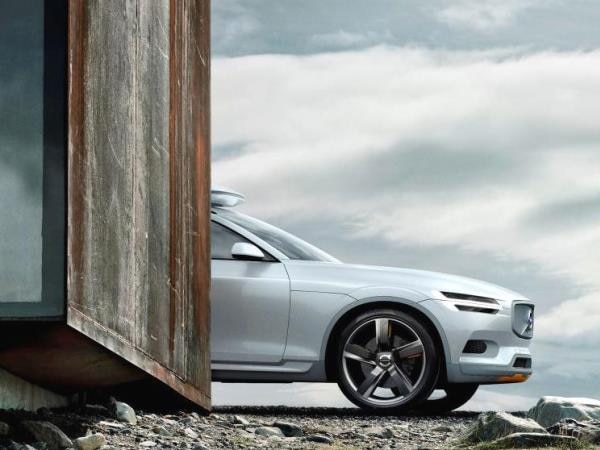 Following on the heels of the original Volvo Concept Coupe that made its debut in Frankfurt last September, the automaker has confirmed the second of three design variations on the theme will have its grand unveiling next month at the 2014 North American International Auto Show in Detroit. Officially the Volvo Concept XC Coupe, this execution will embody a host of visual cues destined to appear in one or more upcoming XC crossover models. Like the Concept Coupe, the this could-be XC iteration will be based on Volvo's new Scalable Product Architecture (SPA) that's set to underpin all of its future medium and large vehicles.
Although Volvo offered no other specific details on the Concept XC Coupe, we do know a great deal about the advanced core structure that encompasses both its physical and electronic makeup. Created to be even more effective at protecting passengers and enhancing the overall driving experience, the SPA solution starts with a more robust and rigid foundation. "Where seven percent of the safety cage in the original XC90 was made of hot-formed boron steel, the structure in the upcoming all-new XC90 features more than 40 percent hot-formed steel, which translates into significantly improved strength without adding mass or weight," notes Jan Ivarsson, senior manager safety strategy and requirements at Volvo Cars.
Also: 2014 Compact Cars at a glance
That extra measure of fortification is matched with a correspondingly advanced electrical architecture that adds a far more sophisticated character to the mix. In addition to its ability to interface with four main functional areas - vehicle dynamics, car body, infotainment and safety - it also can be easily upgraded to keep it current with the latest developments in vehicle-to-vehicle communications, in-car connectivity, crash avoidance and even fully autonomous operation. "Each master can be connected to every single unit in the whole architecture," says Peter Mertens, senior vice president, research and development. "This means that we have one single nerve system with full control over all the connections in the vehicle. This is unique in the industry."
More Cool Concept Cars...
Nissan Sentra Nismo Concept is ready to get real
The Jaguar C-X17 Sports Crossover Concept has production potential
We drove the awesome 503-hp Volkswagen Design Vision GTI Concept
Popular at KBB.com