Volkswagen Cross Coupe Concept - 2011 Tokyo Motor Show
by
KBB.com Editors
|
December 1, 2011 9:34 AM
Portending the look and possible drivetrain of its next generation of SUVs and crossovers, the Volkswagen Cross Coupe Concept made its well-received debut in Tokyo. Scaled between a Golf and a Tiguan, this five-door, four-passenger plug-in hybrid is the first model to use the firm's new MQB - "modular transverse matrix" - platform, an architecture destined to underpin virtually all of VW's future mid-size offerings.
The Cross Coupe Concept was styled by a team led by Volkswagen Group Chief Designer Walter de Silva and Brand Design Chief, Klaus Bischoff. It matches VW's signature horizontal "face" with much more evocative shapes and contours, including a sweeping roofline that's reflected in its name. The look is set off by the Cross Coupe's distinctive front and rear lighting treatments, a relatively long 103.5-inch wheelbase and short front/rear overhangs.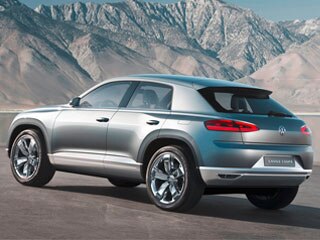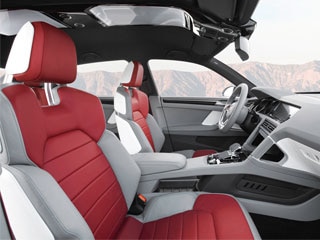 Power for this promising VW one-off comes from a four-cylinder turbocharged/direct-injected TSI gasoline engine matched with electric motors at the front and rear axle that generate 54 and 114 horsepower, respectively. Collectively, that threesome churns out 261 horses, enough to send the Cross Coupe Concept from 0-60 mph in 7.0 seconds and take it on up to 125 mph. It also has a pure EV range of 25 miles.
To optimize its operating efficiency as well as its interior space, the Cross Coupe's uses an innovative all-wheel drive system. When the rear motor is called upon to supply motive force, the electric energy it requires is provided by the front motor, which at that point, serves as a generator powered by the gasoline engine. The setup allows the Cross Coupe's lithium-ion battery pack to be positioned under its floor and on the vehicle's lateral axis, yielding both exceptional overall balance and an extremely low center of gravity that assists its handling prowess.