Updated Infiniti Emerg-E Prototype takes to the track at Goodwood
by
KBB.com Editors
|
July 3, 2012 12:26 PM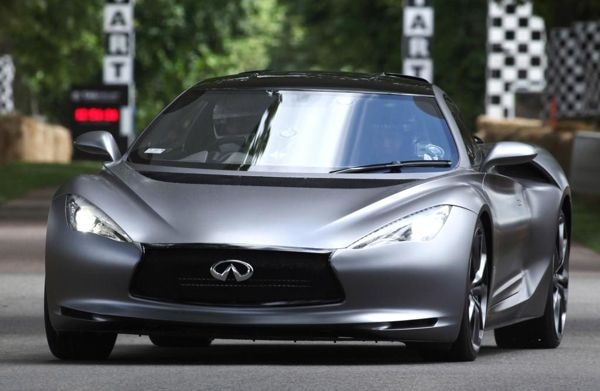 Last weekend the latest and fully operational version of the Infiniti Emerg-E Concept made its first-ever dynamic demonstration run with Formula One driver Mark Webber at the wheel. Intended to show off the kind of real-world potential that resides within this radical range-extended sportster, its appearance was part of Infiniti's high-profile program at the Goodwood Festival of Speed that also included Webber's Red Bull Renault Racing teammate Sebastian Vettel showing off the high-performance Infiniti FX Vettel Edition.
The Emerg-E that blasted up the Goodwood hillclimb course retained all of the basic powertrain elements introduced on the concept vehicle that debuted at the Geneva Auto Show in March. Based on a Lotus Evora chassis, it matches a pair of electric motors -- one at each rear wheel -- that churn out 402 horsepower with a Lotus-designed 1.2-liter/3-cylinder gasoline engine/generator that makes 47 ponies and can extend the car's basic 30 mile pure-electric range from its lithium-ion battery pack by 270 more miles.
While its motivational hardware carried over, this latest version of the Emerg-E does have one new exterior touch in the form of a rear spoiler. According to Jerry Hardcastle, vice-president Vehicle Design and Development, the Nissan Group Technology Centre Europe, this aero-enhancing appendage is fully functional and serves to better balance the vehicle's front and rear lift characteristics at speed.
Although there's still no definitive word on the production future of this sleek, sustainable two-seat halo car, insiders are confident of its chances to make it to the showroom in some form. "Infiniti has a good knowledge of hybrid technology as we are already providing this to the market right now, explains Francois Bancon, division general manager of Exploratory and Advanced Product. "But this is about changing the rules of the game. This is a new way of thinking about the sports car of the future."