Toyota Yaris Hybrid-R Concept previewed for Frankfurt
by
Bob Nagy
|
August 21, 2013 12:04 PM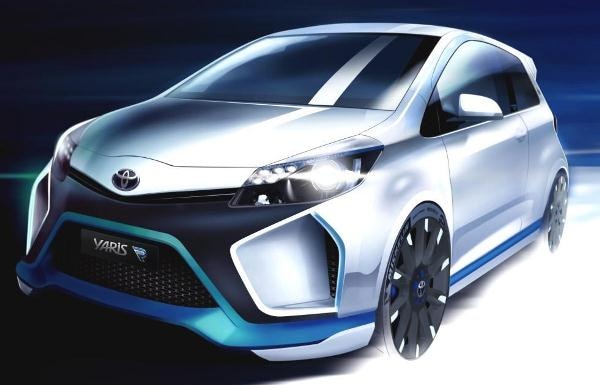 Several new facts have emerged about the one-off vehicle Toyota plans to present in Frankfurt next month that will showcase its new performance-oriented Hybrid-R technology to the world. While specific details are still limited, the automaker has confirmed this street-legal vehicle will be based on a Yaris 3-door model. As promised, the gas/electric drivetrain in the Toyota Yaris Hybrid-R Concept borrows design elements from the firm's impressive TS030 hybrid prototype racer that finished second overall in this year's 24 Hours of Le Mans.
Also: 10 Coolest Cars Under $18,000
In the case of the Yaris Hybrid-R Concept, motive force comes from a 1.6-liter/4-cylinder GRE (Global Race Engine) developed by Toyota Motorsport driving the front wheels, plus a pair of electric motors - one at each rear wheel - to give the car stellar overall performance augmented with the added security of intelligent all-wheel-drive. Toyota has not released output figures for the Hybrid-R package. However, it has confirmed that, like the TS030, the setup incorporates a super-capacitor to hold energy gathered from regenerative braking and a controller that can quickly and efficiently pass that electric charge to each rear drive motor as needed.
In addition to showcasing this performance-focused - and production-ready -- variation along with other forms of its highly successful hybrid technology, Toyota plans to use the Frankfurt event to tout other aspects of its super-green automotive thinking. That presentation will include unveiling the latest version of its Fuel Cell Hybrid Vehicle (FCHV) technology, which previews the system being prepared for installation in its first production FCHV that's due to launch in 2015. Toyota also will shed more light on the 16 new or revamped hybrids that it plans to have in showrooms by the end of 2015.
More Hybrid Vehicles...
The 2014 Honda Accord Hybrid goes on sale here this fall
The Subaru XV Crosstrek will introduce a hybrid variant for 2014
Toyota and Lexus hybrid sales now exceed 5 million units worldwide
Popular at KBB.com