Toyota Fun-Vii Concept - 2011 Tokyo Motor Show
by
KBB.com Editors
|
November 29, 2011 1:42 PM
Looking ahead to a time when people, cars and society are intimately intertwined, the Toyota Fun-Vii Concept took to the stands in Tokyo. Its name is a direct reference to "Fun Vehicle interactive internet," and operators of this distinctively styled mobile environment can change the appearance of both its exterior and interior to suit their whim, creating anything from a rolling art installation to a commercial billboard in the process.
Inside, the Toyota Fun-Vii Concept uses a form of augmented reality to display various forms of information to all aboard, whether it pertains to navigation, audio or some other aspect of the surrounding environment. There's even a "navigation concierge" that can provide driving information and guidance via a sophisticated voice interface. Always connected to the online world, the Fun-Vii Concept employs a network update function to ensure software used in its drive, control and multimedia systems remains current.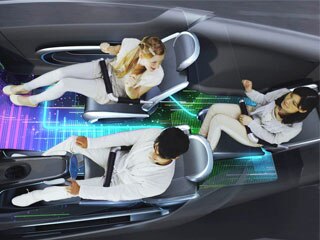 The Toyota Fun-Vii Concept also is able to link with vehicles and infrastructure elements to help its driver avoid potential hidden threats and/or more directly keep in touch with friends who may be motoring in the vicinity. Certain vehicle functions can even be accessed remotely by using a smartphone or some other mobile communication device.