This Week in Car Buying: Volkswagen diesel scandal, week 2; Educating buyers to make the right choice; Chevy Volt's aggressive launch
by
Matt DeLorenzo
|
October 2, 2015 6:48 AM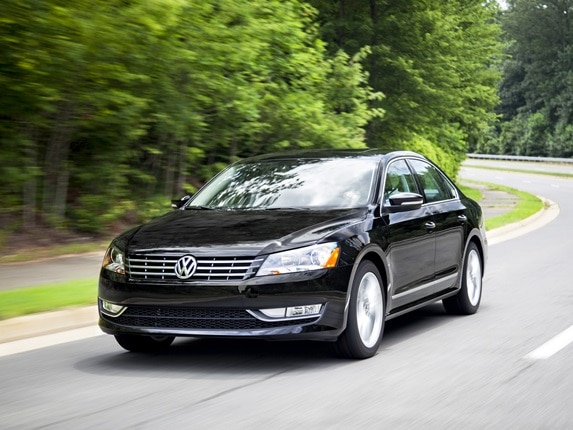 Volkswagen's scandal involving defeat device software in 2009-2015 Golf, Jetta, Beetle and Audi A3 TDI models that allowed them to pass emissions tests, entered its second week with the company announcing that it would fix the vehicles. But beyond that, it didn't give details about the precise nature of the remedy or when the recall program would begin. The announcement came on the heels of its change in top management where Dr. Martin Winterkorn was replaced as VW Group CEO by former Porsche boss, Matthias Mueller.
For now, the EPA is counseling VW TDI owners to continue to drive their cars and await recall notification. So far, there hasn't been a huge change in the resale value of the affected models. According to Eric Ibara, Kelley Blue Book director of residual values, the recall may not have a huge immediate impact on those values.
"The [recall] announcement impacts the diesel vehicles from Volkswagen, and those vehicles carry higher resale values than their equivalent gasoline engine counterparts," Ibara noted. "Based on past history, GM did not see an impact in values from their ignition switch problem. On the other hand, Toyota values were hit by their unintended acceleration issue, but within a year the values were back at normal, pre-recall levels. The amount of impact depends on how Volkswagen handles the recall. In the short term, there is risk of values decreasing between 3-5 percent. Should Volkswagen need to resort to higher levels of incentives to subsequently sell off their TDI stock, the impact could move higher."
In the interim, VW dealers are left holding the bag as unsold 2015 and 2016 models on their lots must remain there until a recall is approved by the EPA and the vehicles refitted to pass emission regulations. VW promised to help cover the floorplanning cost of these vehicles (the interest costs associated with keeping the cars in inventory) and also has launched an incentive program in an effort to boost the sale of unaffected gasoline models. VW 's direct to dealer incentives includes $300 towards any new gas-powered cars they sell and well as $600 for 2015 Passat models (VW recently unveiled the facelifted 2016 model which will soon begin arriving in dealer showrooms).
Also: Class of 2016 -- New Cars Ready to Roll
Smart shoppers are happy owners
Dealerships that go the extra length to educate buyers on the ins-and-outs of new car buying and financing are finding that these owners turn into satisfied and loyal customers. As part of this education process, enterprising dealers are finding new ways to inform not only current shoppers, but a future generation of new car buyers by targeting programs specifically at youths.
Automotive News profiled dealer Lisa Copeland of Fiat of Austin in Austin, Texas, detailing how she has her sales staff instruct consumers on not taking on more debt than they can handle. She also encourages shoppers to know their credit scores before they visit the dealership. "I want to help these customers buy the right car today, so two years from now when it's time to trade, they're going to remember us as the good guys and they're going to come back," she told the trade paper. Part of that process is to have a buyer that has a realistic expectation of what they can and can't afford. "That's the consumer I want, not one that thinks I'm ripping them off because they have bad credit."
Teaching the next generation of new car buyers how to handle credit is another key to creating satisfied customers. Toyota Financial Services is involved in a program of teaching good money management skills through Girl Scouts of America. "Driving My Financial Future" is a two-year program using Toyota Financial employee volunteers to teach basic money managing skills to Girl Scouts. In addition to earning a merit badge, the scouts are eligible for scholarships ranging from $5,000 to $20,000.
Another program designed to teach high school- and college-age students financial responsibility is MoneySkill, an online interactive program offered by the American Financial Services Association Education Foundation. As part of its 36-module format, there are sections on buying and leasing cars. More than 625,000 students have participated in the program since its inception in 2004.
Chevy Volt charges into the market
The all-new 2016 Chevrolet Volt will roll into the market with an aggressive ad campaign that takes on its erstwhile rivals, the Nissan Leaf and Toyota Prius. In comparing the Volt to the all-electric Leaf, Chevy plays on the range anxiety question by trapping a focus group between floors in an elevator to emphasize the frustration at being stuck without a charge. The other spot challenges the nickel-metal hydride technology used in Prius models saying its old 1990s consumer electronic technology instead of the advanced lithium-ion batteries used by the Volt. It should be noted that Toyota is switching to lithium ion in its next generation 2016 Prius.
Chevrolet will also be stressing the plug-in Volt's 53-mile all-electric range and driving range of more than 400 miles between fill-ups. Volt will go on sale in California and 10 other states that following California Zero-Emission Vehicle standards. Base price of the 2016 Chevrolet Volt starts at $33,995, down from the 2015 base price of $35,110. The car is eligible for a $7,500 federal tax credit.
Also: Kelley Blue Book Best Buy Awards of 2015
The rundown
Toyota's Scion division is moving away from boxy hatchbacks, but before it bids adieu to its quirky lineup, there's one more special called the 2015 Scion xB 686 Parklan Edition. Priced at $20,480, this limited run package is geared towards the needs of snowboarders.
After introducing the 2016 Mini Clubman at the Frankfurt show, the British maker of iconic hatchbacks has released pricing of this 4-door hardtop which will start at $24,950.
Every few years or so, Porsche holds a motorsports reunion called Rennsport and this year the Germany automaker returned to Mazda Raceway at Laguna Seca. As part of the festivities, the 2016 Porsche 911 Carrera GTS Rennsport Reunion Edition, of which only 25 will be built and sold in the U.S. was unveiled.