This Week in Car Buying: Rising transaction prices; Crossover conundrum; Wells Fargo caps subprime car loans
by
Matt DeLorenzo
|
March 6, 2015 3:38 PM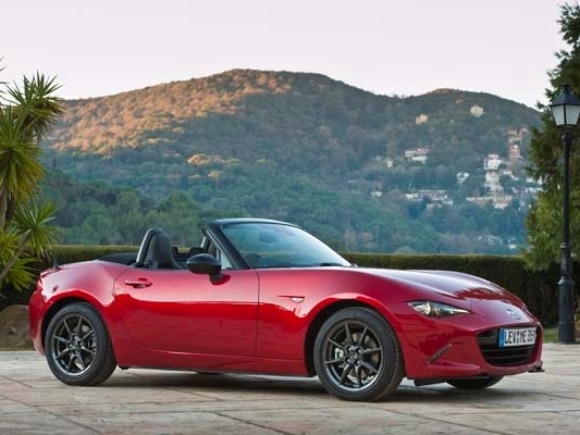 Strong February sales helped propel average transaction prices up 3.6 percent over year-ago levels, though it was down slightly from January's record level. The average price paid for a new car was $33,299, up $1,145 from a year earlier but down $208 from the previous month's high.
"An expected high mix of SUVs, particularly full-size and mid-size is helping drive the overall industry upward," said Alec Gutierrez, senior analyst for Kelley Blue Book. "While utility vehicles are thriving, hybrid cars are doing the opposite, with transaction prices falling 2.5 percent from last year." Despite an increase in gas of about 30 cents per gallon, fuel remains about $1 cheaper per gallon from year-earlier prices. The weakness in sales is reflected by recent moves to bump incentives or offer newer low priced versions, such as Volkswagen's decision to pare almost $2,000 off the list price of its e-Golf by deleting some standard equipment and changing out the alloy wheels for steel ones.
Crossover conundrum
Not all crossovers are created equal and Toyota has proof in its product portfolio. In the same week it announced the 4-millionth Highlander had rolled off the assembly line at its plant in Princeton, Indiana and that the facility will be expanded to produce an additional 30,000 Highlanders per year, it confirmed a grimmer fate for the Venza. This people-mover based on the Camry platform is built at the firm's Georgetown, Kentucky plant alongside the current Camry and Avalon models. Toyota said production of U.S.-spec Venza models is set to end this June and export versions will be mustered out of the mix by September 2017 to be replaced by the Lexus ES sedan.
Touted by Toyota as being designed specifically for the American market, the Venza lacked the SUV styling cues of many of its crossover competitors and came off as more of a 4-door minivan. Its highest sales of 54,410 were recorded in 2009, the year it was introduced. Last year, only 29,991 were sold. Another vehicle similar to the Venza, the Ford Flex, which has more of a boxy wagon look than of a crossover SUV, is finding a similarly chilly reception in the marketplace. While Ford had hoped to sell 100,000 per year, it currently does about a quarter of that number.
Although Ford hasn't said it will ax the vehicle from the lineup, executives told trade journal Automotive News that Flex has two things going for it, a robust market in California and the models that are sold are usually well-equipped high profit units. Even though it has a base price starting at $29,000, fully loaded variants can top $50,000. Ford currently is offering cash incentives of $1,000 on Flex as well as 0.9- to 8.9-percent financing on 2015 models. Venza's cash back offers of $1,500 to $2,000 expired March 2.
Also: Kelley Blue Book Best Buy Awards of 2015
Wells Fargo backs away from subprime lending
While some auto analysts are saying that fears of a bubble in automotive subprime lending may be overblown, Wells Fargo, the large San Francisco-based bank, indicated in a New York Times report that it will be limited the amount of subprime loan it issues to 10 percent of its total automotive portfolio. Last year, the bank underwrote nearly $30 billion in new and used car loans.
Many of these loans to buyers with low credit scores typically have higher interest rates than those to customers with higher ratings. In turn, these subprime loans are often written with longer terms -- some up to 84 months -- that keep the monthly payments more affordable. But the combination of high interest and long terms means that the borrower will pay several times over the cost of the car and quite often will owe more than what the vehicle is worth.
As a result of that trend, along with the likelihood that used vehicle values will begin to drop as the high number of new cars sold or leased over the past several years return to the market, Wells Fargo has decided to limit its exposure in subprime auto loans. It's not clear if other large banks will be following Wells Fargo's lead.
Interest rates spike up
The price of auto loans increased dramatically this week, according to Bankrate's latest survey of interest rates. The average rates for 60-month and 48-month new car loans increased 23 basis points to 4.3 percent and 4.27 percent, respectively. The average rate for a 36-month new car loan went up 22 basis points to 4.24 percent while the average rate for a 36-month used car loan jumped 29 basis points to 5.15 percent and the average rate for a 48-month used car loan soared 38 basis points to 5.36 percent. Part of the increase is attributed to a change in the financial institutions surveyed by www.bankrate.com for the data.
Mazda starts MX-5 Miata production
It won't be long now. Enthusiasts of the Mazda MX-5 Miata can take heart in the fact that production of the latest generation of this iconic two-seater has started at the Japanese automaker's Hiroshima assembly plant. The first models, destined for the Japanese domestic market, will hit showrooms there by June and should bow in the U.S. later in the summer. Pricing for the MX5 is expected to be announced at the upcoming New York Auto Show next month.