This Week in Car Buying: May deals lead-in Memorial Day Sales Events
by
Matt DeLorenzo
|
May 15, 2015 10:34 AM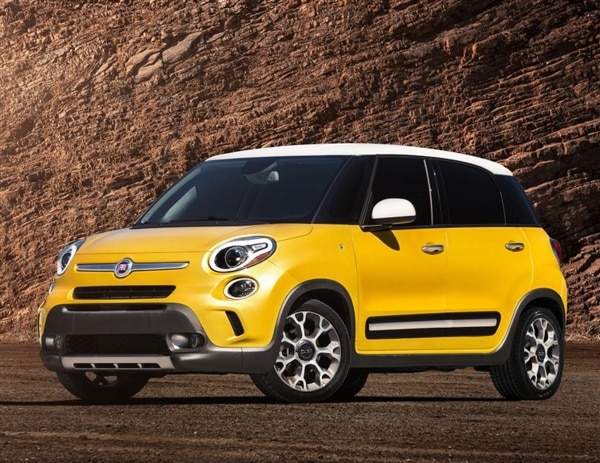 Manufacturers are ramping up their incentive programs in advance of the Memorial Day holiday. Among the top deals for May as compiled by Kelley Blue Book are cash-back offers of $4,500 and lease rates as low as $139 per month.
"This month's list of standout deals includes everything from a pickup truck to more than one electric car, along with a few sedans to even out the mix," said Jack R. Nerad, executive editorial director and executive market analyst at KBB. Com. "Topping the list is an SUV alternative offering loads of charm as just as much cash back. While KBB.com's list of 10 Best Deals of the Month showcases offers that are available through the entire month, many car shoppers can strike a great deal during holiday weekend sales events during the upcoming Memorial Day long weekend."
The top deal of the month is on the 2014 Fiat 500L, which has a $4,500 rebate on a base MSRP of $19,995. KBB's Fair Purchase Price is estimated at $18,573. The top lease deal of the month is on the 2015 Chevrolet Spark EV, which has a $0 down, $139 per-month payment on 39 months. Two other alternative power vehicles, the 2015 Nissan Leaf and the 2015 Chevrolet Volt have respective rebates of $3,500 and $1,500 plus 0-percent financing for 60 months. Two other sedans, the 2015 Chrysler 200 and 2015 Nissan Altima, round out the list of the top 5 cash back/financing deals with respective rebates of $2,000 and $1,000 plus 0-percent financing for 60 months.
Hot lease deals are available on the 2015 Buick Enclave and 2015 Chrysler 300. The Buick requires $1,817 due at signing and $317 per month for 39 months on a $39,975 list price. The 300 sedan has a $200 per month payment for 3 years with $2,999 down on a $32,390 sticker price. The 2015 Volkswagen Tiguan can be leased for $179 per month for 3 years with $2,499 down, while the 2015 Ram 1500 Quad Cab is being offered for 3 years at $219 per month with $2,999 up front.
Inventories continue to be well-managed
Automakers have been keeping a tight lid on inventories, avoiding a buildup in supply that might trigger wide-scale incentives in order to move the iron. While month-to-month sales declined by almost 6 percent from March to April, the number of cars in dealer hands on May 1 remained fairly steady at 65 days, just up slightly from April's 59 days. The industry considers a 60-day supply to be ideal.
Also: Kelley Blue Book Best Buy Awards of 2015
The brand with most vehicles on hand was Fiat, which has a 118-day supply at the current sales rate, while Subaru is the lowest at just 20 days. That strong position lead to announcement by the Japanese automaker that it is adding additional North American capacity four years ahead of schedule, bringing annual output at its Indiana assembly plant to nearly 400,000 by the end of next year. Part of that additional volume will come from space freed up by Toyota moving its overflow Camry production out of the plant.
According to Automotive News, among the models with the highest days' supply are the Acura RLX (253 days); Honda CR-Z (236); Chevrolet Volt (172); Honda Crosstour (154); Cadillac ATS (146); Fiat 500 (145); Lincoln Navigator (130); Lincoln MKC (124) and Chevrolet Trax (123).
Used cars face recall scrutiny
Legislation that will require used cars to undergo greater scrutiny for recalls before they can be sold is wending its way through Congress. A bill introduced earlier this year called Repairing Every Car to Avoid Lost Lives Act (RECALL) would rely on information used in the vehicle registration process to verify that any mandated recall service had been properly performed. Another bill also would require rental companies to remove from service and prevent the sale of any of their units subject to recalls until the required fixes had been performed.
The driving force behind the new laws is the fact that while NHTSA and the manufacturers issue recalls, under current law it is voluntary for the owners to have their vehicles inspected and/or repaired. And NHTSA only requires one mailing to notify car owners of recalls. That system can fail if the vehicle has been sold or the owner moves since making the original purchase. The Orange County Register reports that American Honda has tracked the rate of repair for recalls and that it drops from 80 percent compliance in the first year to 33 percent by the 9th year of ownership.
While the new legislation may put in place additional safeguards, smart buyers can take steps to protect themselves by checking the vehicle's VIN number against a national recall database kept by NHTSA and accessed free at www.SaferCar.gov.
Interest rates moderate
Auto loan rates dipped slightly this week, according to the latest survey of interest rates by www.bankrate.com. Typical 48- and 60-month new car loan rates fell 1 basis point, to 4.33 percent and 4.38 percent, respectively. The average 36-month new car loan remained at 4.31 percent. A basis point is one-hundredth of 1 percent. On the used car side, the average 48-month loan declined 1 basis point to 5.37 percent, while the average 36-month used car loan held at 5.2 percent.
California gas prices soar
Ahead of the busy Memorial Day weekend, California motorists will see gasoline in many areas topping $4 per gallon. It's left to be seen whether this rapid run up in prices will affect the surge in popularity of SUVs and pickups. According to the U.S. Energy Information Agency, "Supply disruptions in the tightly balanced and relatively isolated California gasoline market have increased wholesale and retail gasoline prices over the past several weeks. This comes after markets had adjusted to compensate for lost production following the February explosion and fire at ExxonMobil's refinery in Torrance, California. Average retail prices for regular gasoline in California as a whole, and in Los Angeles specifically, have increased by 57 cents per gallon, and 63 cents per gallon, respectively, in the past three weeks, while U.S. average retail gasoline prices have increased by 20 cents per gallon."