This Week in Car Buying: March madness; Honda pulls Crosstour; Hybrid hiatus
by
Matt DeLorenzo
|
April 10, 2015 2:05 PM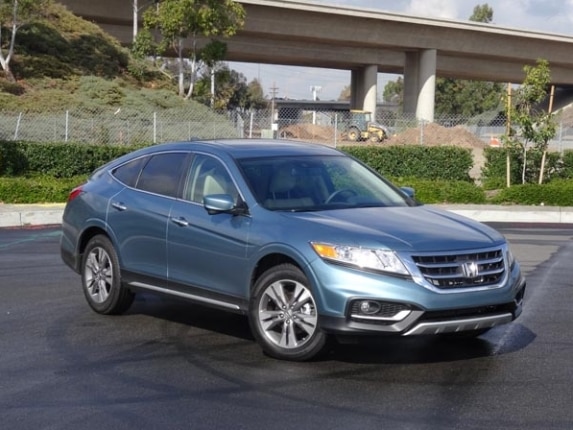 Strong sales continued in March, but it appeared that manufacturers took different tacks to either meet their numbers or focus on profitability. The result was a mixed bag where some brands offered more incentives to goose sales while others trimmed back on spiffs and saw average transaction prices rise. Overall, it was best March in the past 5 years. Among the manufacturers offering deals, Toyota had some of the best of the year, timed to the closing of the annual books back in Japan.
While Toyota, Fiat Chrysler, Hyundai and Kia used incentives to spur sales, others like Ford, GM and Nissan trimmed back these expenditures and while sales dropped, the decrease was not significant and was offset by an increase in transaction prices. At Ford, the draw-down of the previous generation model F-150 model has been so well-managed that not only are there no incentives on 2014 models, the fleet allocations of the 2015 model has been cut to put the priority on retail sales. The only deals offered by Ford on pickups are on heavy-duty variants ranging from $1,000 on 2016 models up to $2,500 on 2015 versions.
Sales should remain strong as analysts see both interest rates and fuel prices remaining low. John Humphrey, senior vice president of J.D. Power's global automotive practice told a New York Auto Show roundtable that he expects interest rates to remain low through the balance of the year. He told Automotive News that "Low interest rates have allowed consumers to not only buy cars, but to buy better-contented cars at higher prices and bigger margins." Analysts do expect the Federal Reserve to begin raising rates, but they see only a minor and gradual step up late in the year. Meanwhile, the Energy Department predicts that fuel prices will remain low through the summer, at levels not seen since 2009. The Energy Information Administration predicts regular will average $2.45 a gallon nationally, more than a dollar below year earlier prices. As a result, look to continued strong sales of pricier vehicles in categories like pickups, crossovers and SUVs.
Honda drops Crosstour
Not all crossovers are created equal, as Honda's decision to pull the plug on its Accord-based Crosstour, an entry that sought to blend the ride height of an SUV with the styling and amenities found on a sedan in a liftback body style. It was an ambitious bid that apparently didn't resonate with consumers. Introduced in 2010, the Crosstour never really caught on and sales fell to a new low of just 752 units in March. Other crossovers, such as the Acura ZDX and Toyota Venza that have tried to be more car- or wagon-like than inspired by SUV cues, have met a similar fate. Honda will be using the freed up Crosstour capacity at its Ohio assembly plant to increase the output of Honda CR-V and Acura RDX models, vehicles that compete in the hot compact crossover SUV market. In addition of boosting output of these two models, Honda also announced that it will be adding the mid-size Acura MDX at the plant.
Also: Kelley Blue Book Best Buy Awards of 2015
Hybrid hiatus
Chevrolet announced that it is suspending production of the 2015 Volt plug-in hybrid at the end of May in order to clear dealer lots in anticipation of launching an all-new successor for the 2016 model year in late summer. With dropping fuel prices, Chevy Volt sales fell 19 percent last year, with only 18,805 retailed. Following the debut of the next generation model at the North American International Auto Show, sales continued to decline, some 48 percent over last year, to just 1,874 in the first quarter. According to Automotive News, Chevy dealers have 5,400 units in stock, or a 211-day supply at the current sales pace. Chevrolet currently offers $1,000 cash on both 2014 and 2015 Volts.
The Volt's siblings, European badged Opel Ampera and the Cadillac ELR coupe will continue to be produced during the hiatus. The slow sales of hybrids are not limited to the Chevrolet Volt. Toyota has also seen soft demand for its Prius hybrid family and is continuing substantial rebates on these models through May 4. The most generous offers are on 2014 models of the Prius c, which range from $2,000 to $3,000, and up to $2,500 on the Prius v. The 2015 Prius models have spiffs ranging from $1,750 to $2,000, while the Prius v has a $1,250 rebate.
New York Auto Show: A precursor of fall deals?
This year's New York Auto Show capped an auto show cycle that promises the launch of more than 40 new models, ranging from the 10th generation Civic, to an all-new Lexus RX. Just as Chevrolet has decided to put Volt on hiatus, automakers with new models are faced with the difficult task of managing the changeover by having just enough cars on hand to meet demand without resorting to hefty incentives. Timing will be everything. If the model isn't launching for some time and stocks are at normal levels, don't anticipate fire sale pricing-such will probably be the case of the Honda Civic and Lexus RX. If the launch is more imminent, or the current model is a slow seller expect to see more generous incentives. When weighing the deal offered on the older model, which will also take a depreciation hit when the new version bows, don't forget to consider what you'll be getting in terms of content or features on the newer model at the higher price. In the case of the Chevy Malibu, it will have a larger back seat, fresher styling and better fuel economy. The same goes for the Nissan Maxima, which will be offering a much more radical design than the outgoing model.