Third Place: 2012 Ford Focus SEL
by
KBB.com Editors
|
August 17, 2011 12:03 PM
Strengths: Most horsepower in this field of competitors
Weaknesses: Senseless user interface for audio and phone system
Synopsis: The Ford Focus SEL is the athlete of this bunch
The reinvented-for-2012 Ford Focus SEL is the most macho compact sedan in this test. Certainly it's the triathlete. The new Focus inherits its firm-riding platform, big power and attitude from Europe (where attitude comes from). And it enjoys the fruits of all three.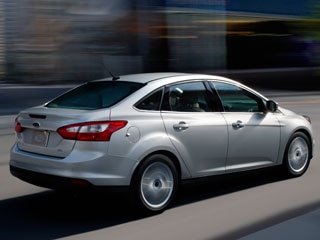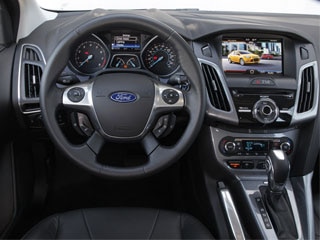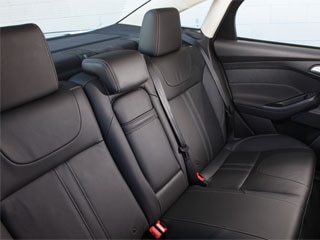 For attitude, it carries a snarly face around -- part rally car, part predator. Trust us, you'd lose a stare-off. That attitude is backed by a 160-horsepower 2.0-liter four-cylinder engine that lifts the Focus SEL to freeway speeds with a serious dose of quick. Even more serious, and infinitely more European than any of the other sedans in this test, was the way the Focus took the stress out of corners. The Ford didn't hesitate or complain, it just dove into corners and did the work with self-assured poise.
The only performance category that the Focus SEL didn't absorb was braking. Responding more with a shrug than any kind of responsive absorption of speed, the four-wheel discs were out of character with the Ford's unmistakable personality strengths.
That personality begins to thin when you go inside the Focus SEL. While the interior is generally a match for the exterior, and a very good shot at modern-angular styling, there's very little about the SEL cockpit that makes you want to take up residence there. And it's not just because leather doesn't come standard (as it did in our other test cars). And it's not just because the Focus suffered from being the smallest interior of the group.
Nope, the 2012 Ford Focus SEL's problem is one of abandonment. When you enter the car, you are greeted by 10,000 controls leading to as much chaos. Whether the task is connecting a phone or presetting a radio station, it's a labor of love, not logic. That alienation-level is upped by the presence of a touchscreen, which should ease the frustration, but only serves to elevate it.
If your task as a driver is intimidate, or rather announce your sporting presence as you arrive, the 2012 Ford Focus SEL, starting at $20,300, might be the calling card you're looking for. Its strengths are all so good, but beware its weaknesses. It takes gifts just to run in this crowd, and sometimes the Focus SEL runs at the very front.
Comparison Test Results: 2012 Ford Focus SEL
Overall Editors' Rating: 6.9 out of 10
Interior: 3rd
Exterior: 2nd
Performance: 2nd
Comfort & Convenience: 4th
Value: 3rd
Read Consumer Reviews for the 2012 Ford Focus SEL

NEXT: The Winners, Part One
PREVIOUS: Fourth Place
Introduction
Fourth Place: 2011 Chevrolet Cruze LTZ
Third Place: 2012 Ford Focus SEL
The Winners, Part One: 2011 Hyundai Elantra Limited
The Winners, Part Two: 2012 Honda Civic EX-L Navi
See a side-by-side specs comparison of all four cars in our test.