Suzuki Kizashi EcoCharge - 2011 NY Auto Show
by
KBB.com Editors
|
April 20, 2011 9:29 AM
Offering a first look at what could be the forerunner of a future production model, the Suzuki Kizashi EcoCharge made its debut in New York. Set off by unique exterior treatment that matches luminescent white satin paint with a subtle blue undercoat, custom headlights and LED foglamps, the EcoCharge Cnocept swaps the Kizashi's standard 2.4-liter/185-horsepower four for a 2.0-liter that makes 144 horses and 127 lb-ft of twist teamed with an advanced electric propulsion package that pairs a liquid-cooled 15kW (20 hp) motor/generator unit energized by a 115-volt air-cooled lithium-ion battery pack. The system sends power to the front wheel via an advanced six-speed automatic transmission.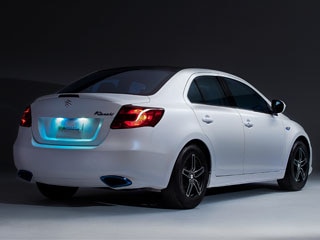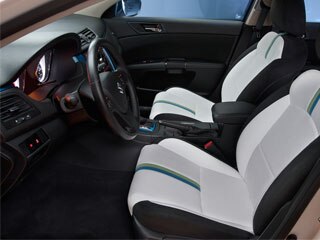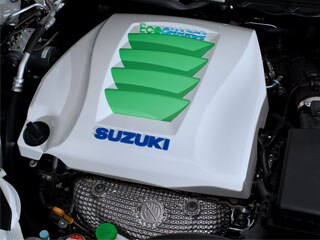 While technical details were limited, Suzuki says this gas/electric hybrid package offers more spirited acceleration and can deliver a 25-percent boost in economy on the highway compared to the baseline Kizashi. To assist in the mileage-maxing process, the Suzuki Kizashi EcoCharge Concept also features a host of other "greener" tech touches including regenerative braking, automatic engine start/stop circuitry, and aggressive fuel cut-off during deceleration while wrapping its custom lightweight alloy wheels in low-rolling resistance tires. As a final flourish, the seats in the Kizashi EcoCharge Concept utilize advanced reprocessed materials that take 84 percent less energy to produce and create 80 percent fewer emissions than virgin material production.
>2012 Kia Soul - 2011 NY Auto Show
>Suzuki Kizashi Apex Concept - 2011 NY Auto Show
>2012 Volkswagen Beetle - 2011 NY Auto Show
"We are continuing to study the virtues of the gas-electric technology found in the Kizashi EcoCharge Concept," said Steve Younan, director of automotive marketing and product planning for American Suzuki Motor Corporation. "Our basic concept was to attain substantial gains in fuel economy without the traditional sacrifices in drivability required with today's mid-size hybrid sedans. The proof of our concept is that the Kizashi EcoCharge has the capability to deliver a 25-percent fuel economy gain in real-world driving through an electric charge to the powertrain system while still retaining the production Kizashi's dynamic handling and braking advantages that make it a standout category performer."