Supercharged Mugen Euro Honda CR-Z Concept will debut at Goodwood
by
KBB.com Editors
|
May 3, 2011 4:53 PM
Offering the most enticing look to date at the untapped potential lying within Honda's sportiest hybrid, the Mugen Euro Honda CR-Z is set to make its first public appearance this July at the annual Goodwood Festival of Speed in England. This one-off supercoupe is a collaborative effort between Honda UK and the automaker's house go-fast group, MUGEN Euro. It shares many of the visual and functional enhancements first seen last year on the trick HPD CR-Z Hybrid R Concept and CR-Z Racer one-offs that were created in the U.S. by the Honda Performance Division, also using various MUGEN-supplied components.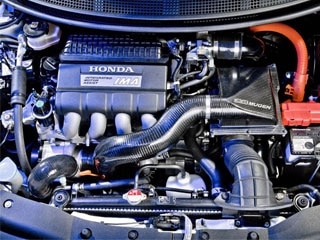 In addition to its full MUGEN body kit, the revised 1.5-liter/four-cylinder VTEC engine in the Mugen Euro Honda CR-Z Concept bolsters its standard Honda Integrated Motor Assist (IMA) setup with a Mugen-designed iCF supercharger and computer control package that bumps output to roughly 200 horsepower and 181 lb-ft of torque, compared to the stock 122/128 stats. Colin Whittamore from MUGEN Euro notes that the system was optimized to fully leverage the low-rev torque already built into Honda's standard IMA setup. "A supercharger and complementary electronics allow us to very neatly map the IMA to the extra power and torque of the engine in a unique package, giving a smooth, integrated and powerful driving experience."
Rounding out the functional upgrades roster, the Mugen Euro Honda CR-Z Concept boasts a full racing suspension complete with five-position adjustable dampers, larger high-performance brake rotors and calipers, wider track dimensions and custom 17-inch MUGEN GP forged alloy wheels. Honda still refuses to comment on if or when a variation on this hybrid hot hatch will ever reach the streets here or in the UK, but with the continuing attention being given to these high-performance "concept" versions of the CR-Z, it seems more and more likely that a production variation will make it into the showroom at some point.