Subaru Expedition Iceland Trip Diary
by
Jack R. Nerad, Executive Editorial Director, KBB.com
|
November 11, 2013 3:22 PM
Author's Note: I take a lot of trips, but I don't go on many expeditions. When I got the opportunity to be part of Subaru's Expedition Iceland, I decided to take copious notes not just on the vehicle, but also on the journey. I didn't know how detailed - and how personal - it would become. A deeper look at the vehicle can be found by clicking here. But if you'd like to follow along on a real adventure, please continue.
November 3, 7:30 am, Southern California. Packing to depart for Iceland, I can't find my long underwear. Since I haven't skied in two winters, it has vanished. I search high and low, getting more irritated by the minute. Then I ask my long-suffering wife, who locates it in a minute or so. What am I going to do without her for a week? Well, at least I'll have long underwear.
November 3, 9:30 am. My wife is taking me to Los Angeles International Airport to board a plane for Denver, the first leg of the journey. Inexplicably the road to the airport is jammed on a Sunday morning! At the airport entrance a policeman with an assault rifle is checking each car that enters. In other words, welcome travelers.
November 3, 3:00 pm. At Stapleton International Airport in Denver. I have made my way to the gate for the Icelandair flight, and the waiting area is filled with exactly the people you would expect to be going to Iceland in November, i.e. borderline cases, which described most auto journalists quite well. There are a lot of colorful sweaters and hiking boots. Plenty of gray hair and a lot of blondes. Not pretty blondes, but blondes.
November 3, 4:25 pm. After a fumbling start, I'm in my seat. Several younger auto journalists follow, speaking in loud, self-assured, been-there-done-that voices as young auto journalists are wont to do. Was I like that 25 years ago, I ask myself. Probably worse. My major hope is they won't disturb my sleep.
November 4, 7:19 am. Leaving Keflavik, Reykjavik's international airport in the pitch dark with freezing sleet blowing sideways, headed to the Blue Lagoon where we can rent bathing suits if we want to take the waters. But after 13 hours of traveling I'm thinking sleep would trump geothermal waters right now anyway.
November 4, 8:32 am. At Blue Lagoon spa outside Reykjanesbaer. "When at blue do what the blue folks do." So after a bit of aimless wandering I was persuaded to be the first to get a rent-a-suit and get into the silica-filled warm waters of the blue lagoon. (Why get my own suit wet when I can get theirs wet?) The water was pleasantly warm, but the windblown rain and the 30-degree weather take an edge off the proceedings. The silica and algae (pronounced al-gay here) are reputed to rejuvenate your skin. After the treatment I feel minutes younger. George, the shower room attendant, is a Scot who has been in Iceland 20 years. He tells me the weather was really terrific over the weekend and shows me smartphone photos to prove it. Happy Monday. How 'bout some sleep?
November 4, 11:08 am. Driving on the snow-packed roads of rural southern Iceland is both nerve-wracking and exhilarating. The XV Crostrek Hybrid handles the widely disparate and often treacherous road surfaces with aplomb. Our first stop includes cinnamon-infused pancakes, and that's just the pre-lunch.
November 4, 12:14 pm. A few minutes ago we were at the edge of a rushing stream that appeared too deep for the Crosstrek and its reasonably small tires, but the Subaru folks assured us it was safe to cross, so we did. And then we ended up fording the river eight more times, so even the dullest among us would get the message. (Me?) It proved that the Crosstrek has capabilities you would not imagine at first glance. There's a Superman behind those Clark Kent glasses.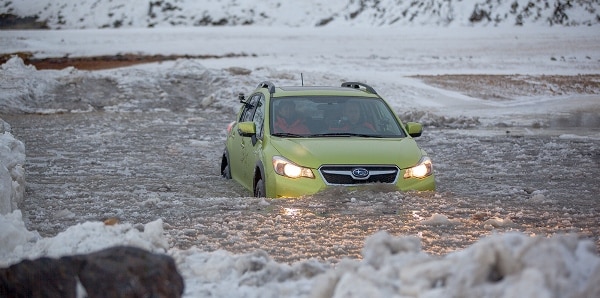 November 4, 1:38 pm. We're hungry, so we're glad that it is time for lunch. The venue is the Icelandic seafood restaurant Fjorubordid. (Yes, every Icelandic word looks like a line in the middle of an eye chart.) Located in Stokkseyri (what did I tell you?), it's a down-home eatery on the edge of a bay whose seas seem to have taken the day off. Tide out, no note on when it will return. No matter though. The local lobster first in soup, then in the shell - is delicious. Of course, we get it all over ourselves, but who cares when there's a bowl of peel-it-yourself lobster on the table?
November 4, 3:17 pm. After a relatively easy drive we're in the rustic Hotel Ranga, a seaside low-rise that is built of more wood than there remains in all the forests (?) on Iceland. Nice comfortable room, but I can't figure out how to turn the heat up. And I'm COLD. Let's face it, I'm in Iceland! Later the hotel staff tells me the thermostat has nothing to do with the heat. (Silly me.) Once I roll on the geothermal radiator, the room heats up to sauna levels in minutes.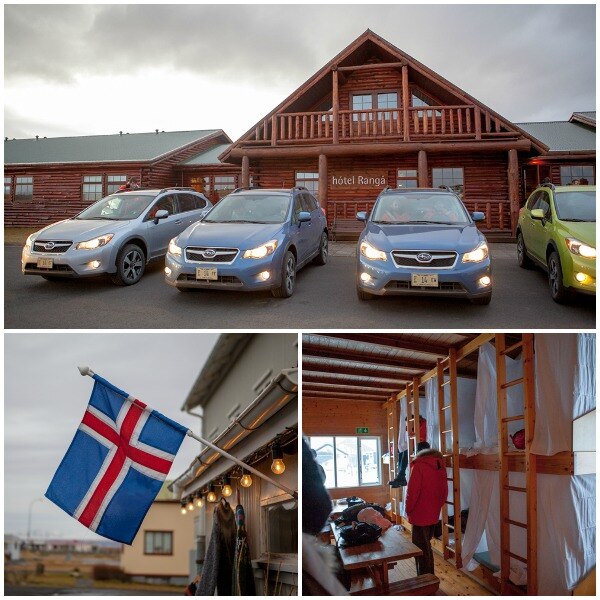 November 4, 7:00 pm. The evening meal features salmon and lamb, the Iceland version of surf and turf. No one seemed to cry any tears for the fish, but the idea of eating a baby sheep turned several of my co-campers off. Some opt for double salmon; others go full vegetarian, ingesting a collection of hot-house-grown vegetables that are as pale as their growers. This is a nation that eats what it can get, including puffin and horse. Apparently cows have a difficult time here, but horses are hardier and are raised for meat. Lucky them. That's why "Hey, horsey, why the long face?" is an especially appropriate joke here.
November 5, 8:23 am at Hotel Ranga. After sleeping the sleep of the just (10+ hours!) overnight in spite of the ever-present wind that came up so strong it rattled the siding, I'm ready for another day of driving through the sand, snow and muck of Iceland where the XV Crosstrek Hybrid is more than in its element.
November 5, 9:48 am. The gray day turns grayer as I realize that something I ate at breakfast (could it be the hydroponically grown apples or pineapple?) didn't agree with my weak, cheeseburger-accustomed stomach. Though the XV Crosstrek's ride is sweet and true and the driving of my co-driver, Outside Magazine's Grant Davis, is virtuoso-like, I feel that something horrible is brewing up inside me. Not a pleasant thought as the wind swirls and the cloud swirl ever-darker.
November 5, 11:13 am. After traveling through bleak, wintry scenery straight from a contemporary espionage movie -- you know the type where everything is so far gone it's not worth saving -- we arrive at a charming dual waterfall, made somewhat less charming by the 30 mile-per-hour wind and occasional snow flurries. We dutifully take pictures then climb back into our Crosstreks.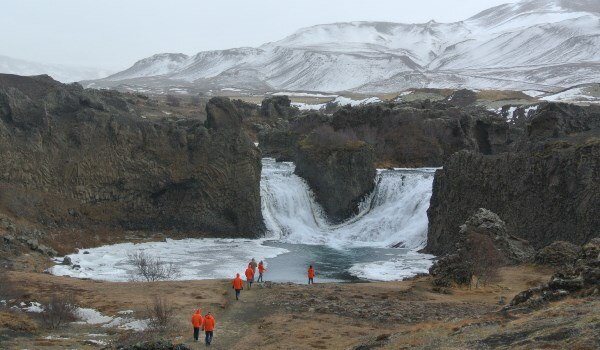 November 5, 12:47 pm. We pull into an out-of the-way cafe, I open the driver's door, and I immediately begin projectile-vomiting. Not just vomiting, mind you, but vomiting for distance and, to some extent, accuracy. As I stagger in front of the car, still spewing into the snow, I can tell that the day has suddenly gotten much worse, not only for me, but for one Grant Davis, co-driver. Inside the Hrauneyjar cafe-and-hotel I am relieved (in all senses of that term) to find a vacant and very comfortable bathroom stall, where I spend more of the lunch break purging what I had for breakfast. See, Iceland is such a health-conscious country that when you visit there you immediately begin losing weight.
November 5, 1:38 pm. The sign across the road reads "impassable," so we go around the sign and head down the road. What could go wrong? We're in compact all-wheel-drive crossover vehicles with relatively small tires and 8.7 inches of ground clearance, which seems like a lot until you encounter 15-inch deep ruts of gathering wind-driven snow. But the drifiting snow isn't the first problem; that's the jagged volcanic rock that is proving fatal to some of the aftermarket tires our vehicles are fitted with. We stop several times as other members of the expedition have their tires changed.
November 5, 2:41 pm. Moving deep into the Icelandic highlands now, we crash ahead with the group in nose-to-tail fashion, but now the gathering snow piled up by the bitter, unrelenting winds is becoming an issue. (The winds are so stiff that we are warned to be careful opening our doors lest the wind bend the hinges.) Soon the radio is crackling with the cry, "car number two is stuck," then minutes later, "car number two is stuck again." It's not the fault of the guys in car number two or any of the other vehicles that get hung up. The threatening weather has deteriorated, and snow is blowing across the route in gathering drifts. It's not actually snowing much, but the trail is filling low spots with up to three feet of snow. The support vehicles -- big dedicated 4x4s with huge tires and vast ground clearance -- make easy work of it, but the XV Crosstreks, though quite capable at doing amazing things like fording streams as deep as mid-door, are struggling in the gullies filled with soft snow. The going is slow because some have to be towed free.
November 5, 3:14 pm. We are well behind schedule, and the weather is deteriorating still further, which mirrors my gut at the moment. Like a geyser building in me I can feel nausea swell up. I swing open the door, leap into the arctic blast and begin throwing up again. I don't have many claims to fame, but I think I can justify a claim to being the first auto journalist to vomit on a 2014 Subaru XV Crosstrek. (Ours is the touring trim level in white, and now decorated behind the driver's door with splotches of orange and yellow.)
November 5; 4:25 pm. We're moving in fits-and-starts now toward the promise of some kind of primitive accommodation in the form of a place called Landmannalaugur Remote Camp, but the going is slow and the twilight of day is merging into the darkness of night. Most of the vehicles are proceeding without incident, but since we are en caravan when a car near the lead of the pack stops, we all stop. Then we charge ahead for awhile; then stop for awhile. Wind is whipping the snow so rabidly that at times it is nearly impossible to see anything ahead of the windshield, so often we're driving on blind faith.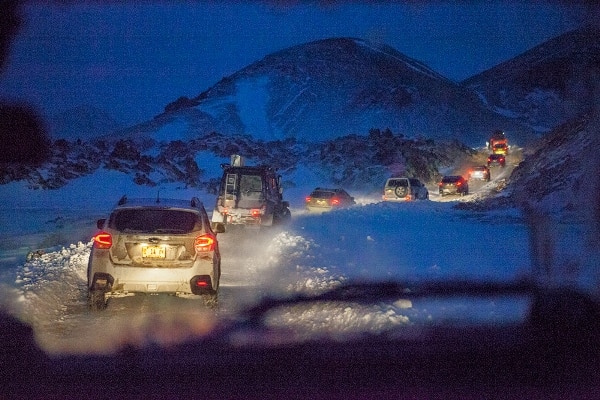 November 5, 4:56 pm. After another all-stop, we come up on the source of some of our woes. The guides have decided to divert us off the semi-graded but often snow-filled path, which has been a successful gambit until we are confronted by a two-and-half-foot gully that runs perpendicular to our line of travel. Several vehicles have already become stuck here and we watch as they are towed out. Then it is our turn. It looks to me like the best course is to go right a bit where the gully seems shallower, but one of our guides is emphatically telling us to go to the left side, then turn to the right. Figuring he's the expert (and knowing full well I'm not) I bow to his advice, maneuver left, turn right with a lot of momentum and immediately smack the left front hard into the far side of the gully. It might have been worth the punctured fascia had we made it across, but we ended up stuck anyway. Several others behind share our fate as the entourage struggles on.
November 5, 5:18 pm. The organizers have finally bowed to the inevitable, and we have stopped so a snowplow can clear the way for us. Snowplows aren't the fastest of wheeled conveyances, and as we sit waiting for the route to be cleared to my private version of nirvana in the form of the camp house, I feel another round of grotesque heat welling up. Just as we get the signal to go, I can stand it no more. I can't get out of the car this time. I merely swing open the door, stick my head out and begin hurling. (I wonder, how can I still have that much in there?!) Happily none makes its way back into the car. As a sailor I remember the oft-repeated sailors' warning: never puke to windward, but my now incredibly long-suffering and patient co-driver told me later, "It got pretty pungent in there." Yes, when you're vomiting out your nose it gets up-close-and-personal pungent.
November 5, 6:12 pm. It's dark as the inside of a Icelandic sweater; the howling wind is pushing an opaque mass of snow across our path, and I'm trying to follow a modified Nissan Patrol 4x4 as it shoots forward toward our destination. There are points when co-driver Grant is taking the part of a rally navigator, calling out rights and lefts, and somehow we made it through without getting stuck again.
November 5, 6:27 pm. Yes, in the distance we can see it. Lights, the camp house compound -- it's within reach. But first we have to cross two more rivers, not by bridge (those are for wusses) but by fording them. To make things more interesting, one river is cold and the other is hot. Where are we? In The Lord of the Rings? Slowly, steadily, we negotiate both of them flawlessly. In minutes we are standing in the shadows of a complex of three buildings that will be our home (okay, hostel) for the night.
November 5, 7:02 pm in Landmannalaugar Remote Camp.) Still woozy I stagger up the snow-cratered steps of the main building. I'm asked to remove my boots and leave them in the anteroom. A colder, wetter version of Japan. I lug my suitcase and backpack upstairs and claim a curtained bunk in the middle of the room. Dropping my luggage, I collapse into the bunk. When others are called to dinner I stay there. Dinner has no appeal to me right now.
November 5, 9:13 pm. Strategically, I have decided to wait as long as possible before I have to make my way through the snowdrifts to another building that houses the toilets. I sure don't want to do that in the middle of the night. As I'm trying to organize the stuff I'm going to take with me to the bathroom I hear the happy chant, "The showers are working now." Suddenly I get the slightly insane urge to take a hot shower, and I revise my assessment of the gear I'll need for that sub-expedition. In moments I've rallied enough to set off for downstairs.
November 5, 9:20 pm. I'm in the mud room, and my socks are rapidly soaking up the frigid water on the floor as I search for my boots. In the dim light all the hiking boots look alike. In fact in any light all hiking boots look alike. I find a pair that I believe to be mine, pull them over my now dripping socks, plunge out the door and wallow through the snowdrifts. Others had received headlamps on their arrival; mine was a no-show, but navigating by the lights in front of me I make it to the shower house door. After attending to a few things, I decide I will attempt to take a shower, no matter that it can't be more than 50 degrees in the building and that I have spent most of the day puking my guts out. I enter the shower, turn on the hot water -- I'm not going to strip down naked if there's no hot water -- and when I'm satisfied that there is, I begin peeling off my clothes, layer after layer after layer. Okay, I ask myself, "where is the soap and shampoo so graciously provided me by my hosts?" Is it in one of the 42 pockets in my bright orange Expedition Iceland parka? Is in in my Columbia fleece vest? Is it in my Lucky Brand jeans? No, it is back in my bunk in the other building, across that snowy expanse of sub-arctic wasteland. I look through the toiletries I did manage to bring with me. I have toothpaste. I have mouthwash. I have hair gel. I even have saline solution for my contact lenses, which now are cemented to my eyes. But I do not have anything that will provide a very viable substitute for soap. For a few fleeting moments I contemplate pulling my clothes back on and going off to retrieve the soap, but I just can't stand the idea. I put my hand into the warm water cascading from the shower head and immediately decide that a shower without soap is better than no shower at all. I get under the water, and it encapsulates me, taking me prisoner because I know how cold it will be when I get out. I splash water all over myself, then I splash some more. "You know you're going to have to get out." I tell myself. "Yes, I know," I reply. I'm so delirious I'm talking to myself in an Icelandic shower that smells vaguely of rotten eggs. Have I reached the breaking point?
November 5, 9:43 pm. No, instead of reaching the breaking point I reach for the towel, and I drag myself bodily from the steaming water. I leave the hot water on in an attempt to give the room a little more heat as I pull on the clean clothes that I had brought with me. One thing Iceland has is plenty of hot water. In minutes I have waddled back across the snow to the bunkhouse, pulled off my shoes, gotten my new, dry socks soaking wet and climbed the stairs to my bunk. I fall back into it like a whipped puppy.
November 5-6, various times. After attempting to get comfortable in my sleeping bag I begin to realize that a guy like me can't get comfortable in a sleeping bag. I have the choice of keeping my arms warm but feeling like Lon Chaney in "The Mummy" or keeping my arms out in a more natural position but freezing. Every few minutes I find a different position, saying to myself that's not too bad, but then it quickly does become too bad, and I roll over again. The night passes in that manner, and I'm addled enough to believe I'm actually getting some sleep. In the morning I realize that if you consciously know you are sleeping, you are not really sleeping. Or is that too existential for Kelley Blue Book?
November 6, 9:00 am. I have lived through the night. Very kind people are scurrying around asking if our bags are ready to go into the support vehicles. Well, no. But I throw my stuff in my roller bag and backpack, resist the impulse to burn my sleeping bag, and take physical inventory. I haven't vomited in something like 13 hours now, so that's a plus.
November 6, 10:11 am. We are underway again, going out the same way we had come in. All rumors of "an easier way" have been scotched. The good news is the wind has let up and the snowplow has done its work. On the way out there are only two mishaps. We follow a lead vehicle that is apparently not supposed to be leading us, so we have to backtrack to our major photo op overlooking a crater lake. And just when we are about to get out of the drifting snow zone we get stuck again and have to be towed for a moment. My co-driver is abashed, but it was not his fault. It was just his time.
November 6, 11:52 am. We emerge from the "impassable" area, pass the dam site and the waterfalls and pull up to the Hrauneyjar hotel-cafe where my sickness first overtook me the day before. It is like being a criminal returning to the scene of the crime. I resist the impulse to see if my pukemarks still discolor the snow. When I go into the restroom (that clean, welcoming, cozy restroom) it is like visiting an old friend.
November 6, 1:10 pm. We're back on real roads, though some of them are snow-covered, and the XV Crosstrek is performing like a champ. The all-wheel-drive is a willing ally in negotiating the slippery surfaces, and the extra torque of the hybrid power train is a noticeable advantage. It starts snowing again, but who cares? We're headed to civilization.
November 6, 1:38 pm. We're at Fridheimar, a family "farm" that is actually a complex of hothouses growing tomatoes hydroponically. Farmer Knutur Rafn Armann and his lovely wife Helena Hermundardottir are very proud of their operation, which yields a ton a day of tomatoes that are packaged on premises and sold across the country. The computer-controlled hothouses are so advanced Armann says he can monitor the entire growing process from his iPhone. We are served delicious tomato soup made from his family's tomatoes and some wonderful bread.
November 6, 2:47 pm. We depart the farm on our final driving leg to Reykjavik, Iceland's capital and something we would compare in America to "a real town." The Crosstrek continues to perform admirably in the hands of co-driver Grant, and I sit on the passenger's side, soak up the scenery (think surface-of-moon but with snow) and wistfully dream of a bed with real sheets and -- dare I say it -- a down comforter. (Good lord, what a softie I've become. Next I'll be asking someone to wrap a shawl around my shoulders.)
November 6, 3:59 pm. At Hotel Borg in Reykjavik. One of the oldest hotels in Iceland, it is a swell place providing me a clean, comfortable room, an operating flat screen TV set with almost 10 channels, free Internet access (no password required) and, best of all, an operating bathroom attached for my personal use. It's not heaven, but it might be Oklahoma.
November 7, in and around Reykjavik. It turns out to be a day spent on one of the loosest and zaniest sightseeing adventures I've ever encountered, and I'm a guy who once went on the Yugo factory tour. For lunch I have a $30 piece of cod in 73 Restaurant on Laugavegur and follow it with some ice cream on a waffle. Good waffle. I'm an American with an iPhone, so of course I take pictures of both. While on the tour, the guide freely shared his views on just about anything and showed us not one but two hot-water storage tank installations, the second of which has a revolving restaurant on top of it. Hey, that's Iceland.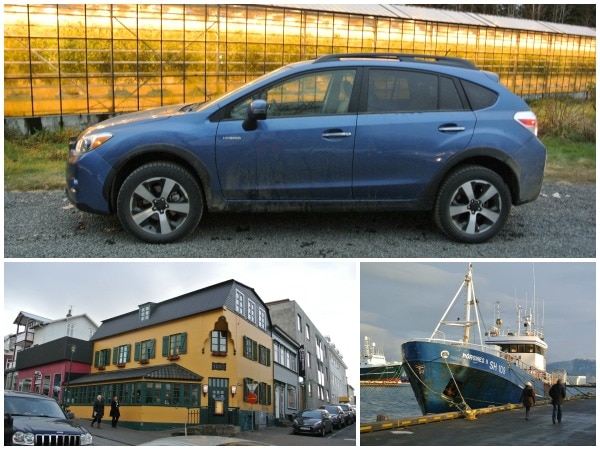 November 7, 3:30 pm. Departing Reykjavik and Iceland. The ride to the airport is so long it makes me think I'm being driven to LAX. I guess the Icelanders couldn't find any flat land to build an airport on nearer the city...except for the acres of empty flat land we drove through on the way to the airport. In any case, I'm sure the Icelanders have a reason. After all, they've been there for 1,200 years. I just got there Monday.
More Crossovers and SUVs...