Subaru BRZ Concept - STI - 2011 LA Auto Show
by
KBB.com Editors
|
November 14, 2011 7:42 AM
Providing an early look at the eagerly awaited 2+2 sport coupe due for a formal unveil late this month in Tokyo, the Subaru BRZ Concept - STI made a big impression in Los Angeles. While a bit more dramatically rendered thanks to various go-fast bits from the speed merchants at Subaru Technica International (STI), this stunning one-off shares all of the basic styling cues and unique rear-drive configuration that will be found in the volume-build Subaru BRZ.
>See more new cars unveiled at the 2011 Los Angeles Auto Show
Finished in "WR Blue Pearl II" paint that revisits a signature color made famous by a host of the automaker's successful World Rally Championship vehicles, the Subaru BRZ Concept - STI takes a higher-profile road courtesy of its STI-spec front and rear fascia treatments as well as a mass-minimizing carbon-fiber roof panel and a competition-style rear wing. However, none of those elements seem likely to appear on any production BRZ until Subaru decides the time is right to introduce a full-on STI variant. Prominent rear fender flares and a large functional rear diffuser add even more visual drama to this one-off precursor, with quad polished steel tailpipes on hand to properly complete the look.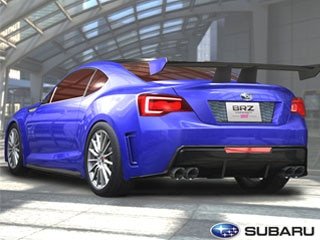 Like the standard BRZ, the Concept - STI variant breaks Subaru's longstanding all-wheel-drive tradition in favor of a layout that gives it the singular distinction of being the only the only mass-produced car to feature a front-mounted horizontally-opposed engine that powers the rear wheels. In this case - as well as with the Toyota FT-86 and Scion FR-S that will also share this platform configuration - the motivation under the BRZ's blade-like hood comes from Subie's all-new 2.0-liter "boxer" four-cylinder engine, which is expected to churn out about 200 horsepower in its naturally aspirated form but clearly lends itself to more-potent turbocharged configurations at some point in the future.
Positioned nearly five inches lower in the bay than a conventional counterpart and set back 9.5 inches closer to the car's transverse centerline, it helps lower the center of gravity and promises to endow the lightweight BRZ with spectacular balance and handling prowess. To ensure this particular example can make the most of that potential, the even lighter BRZ Concept - STI also features a full STI-tuned suspension, huge Brembo brakes and a set of custom 18-inch alloy wheels wrapped in 215/45 performance tires up front and 245/45 rubber in the rear.