Subaru BRZ - 2011 Tokyo Motor Show
by
KBB.com Editors
|
November 29, 2011 1:44 PM
Making its first appearance in final production form, the Subaru BRZ grabbed its share of the limelight in Tokyo along with its mechanical twin, the Toyota 86. Like the Toyota, the new BRZ is the result of a team effort that utilized expertise from both manufacturers to create a dramatically styled 2+2 sport coupe with outstanding dynamic characteristics. In a radical departure from corporate convention, the Subaru BRZ will be the only model in the automaker's lineup to forsake its signature all-wheel drive setup in favor of a rear-drive configuration.
Motivation for the BRZ comes from a dedicated version of Subaru's latest horizontally opposed 2.0-liter four-cylinder engine. Naturally aspirated and fitted with Toyota's D-4S induction system that incorporates a port and direct injector for each cylinder, it develops 197 horsepower and 151 lb-ft of torque.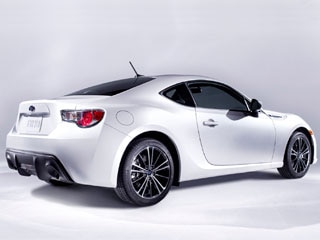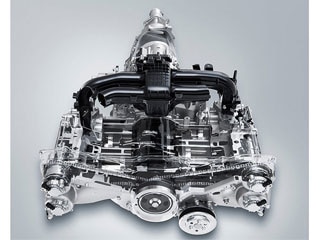 This high-tech four can be backed by a standard six-speed manual transmission or optional six-speed automatic. The latter cog changer features Sport/Manual modes and paddle-shift levers on the steering wheel as well as a computerized throttle-blipping function that matches revs on downshifts.
To ensure excellent handling and agility, the powertrain components in the Subaru BRZ's are positioned far lower in the front cradle than in any other Subaru, significantly dropping the center of gravity. They're also set back in a front/mid location to improve front/rear weight distribution. Those designed-in advantages are matched with a sport-tuned suspension and stability control system, big anti-lock disc brakes and 215/45 tires on 17-inch alloy wheels, all of which should further contribute to helping the BRZ fulfill Subaru's stated goal of creating a sports car that delivers "Pure Handling Delight."
While sharing all of its engineering pedigree and most of its basic styling cues with the Toyota 86, the Suburu BRZ does differ in the details of its fascia treatments and badging. The biggest departure is seen up front, where the BRZ's trapezoidal grille opening features a more traditional wide-at-the-top-narrow-at-the-base configuration. Save for that item and unique side vents/fog lamps, slightly less prominent dual-exhaust tips and minor revamps to the headlamp/taillamp treatments, the two cars are near clones.
Expect the new Subaru BRZ to hit U.S. showrooms in the spring.