Subaru Advanced Tourer Concept - Tokyo Auto Show Preview
by
KBB.com Editors
|
November 7, 2011 1:55 PM
While its enthusiast-oriented BRZ Coupe may grab a larger share of the limelight at the upcoming Tokyo Auto Show, the Subaru Advanced Touring Concept that also will debut there is likely to be far more significant with respect to influencing the automaker's future. In addition to offering an early look at the styling direction we're likely to see in the next-generation Legacy, this intriguing one-off also features a hybrid powertrain based around a new smaller and more efficient incarnation of its signature flat-four engine.
The exterior of the Subaru Advanced Touring Concept reflects an edgier, more aggressive extension of the "Confidence in Motion" design language first seen on the Impreza Design Concept revealed last year in Los Angeles. Inside, this innovative wagon reinforces that contemporary look, offering individual seats for four set off with metal and real wood trim accents as well as a full panorama glass roof panel.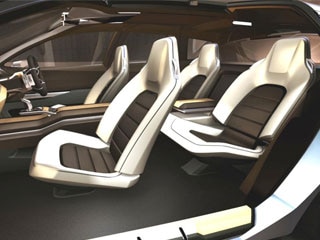 While offering only modest drivetrain specifics, Subaru has confirmed that the Advanced Touring Concept is powered by a hybrid system that matches an electric motor with a new generation 1.6-liter gasoline engine. Both are linked to a specially optimized version of the firm's Lineartronic continuously variable automatic transmission that ships power to the pavement via an enhanced version of Subaru's Symmetrical All-Wheel Drive system. The new engine relies on direct fuel injection and high-pressure turbocharging to significantly improve combustion compared to the turbo technology used on Subaru's current 2.0- and 2.5-liter engines while still maintaining impressive performance. Subaru says that potent pairing, working in consort with smaller-displacement engines, will be integral to helping it meet future fuel-economy requirements across its entire lineup.
As for its hybrid component, the Subaru Advanced Touring Concept is designed to operate in pure EV mode at startup and for short periods of low-speed driving. Like all modern hybrids, it uses regenerative braking to help recharge the battery pack under deceleration.