smart forvision Concept - Frankfurt Auto Show
by
KBB.com Editors
|
September 6, 2011 10:56 AM
A joint exercise between Daimler and BASF, the smart forvision Concept offers a look at the design thinking that will likely shape the coming generation of smart production offerings. Although it retains a number of signature smart visual cues, this electric-powered one-off city car introduces no fewer than five new technologies to the automotive world, all focused on creating an even more efficient form of urban transport module.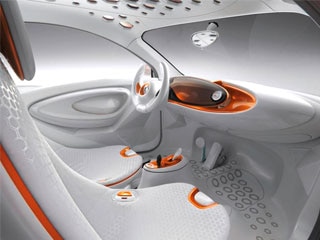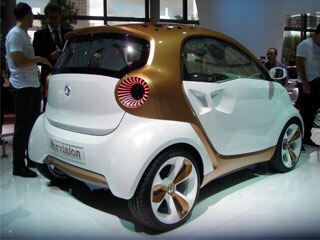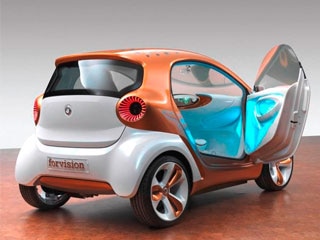 The smart forvision is a composite-intensive exercise, with everything from its Tridion safety cell to its uniquely sculpted door skins made of this weight-reducing material, which gets matched with other plastic/composite body panels. Even its wheels are made from a new Ultramid Structure created by BASF. These first-ever production-feasible fiber-reinforced plastic rims are 30-percent lighter, yet just as strong as a conventional metal wheel.
Painted Pearl White with its Tridion structure rendered in a color-shifting copper-toned liquid-metal hue, the smart forvision features highly-stylized head- and taillamp treatments and a roof covered in transparent solar cells. These trick top elements are infused with light-activated dyes that can create shade for the cabin and generate enough energy to power the multimedia components as well as three ancillary fans that assist with the interior climate management. Beneath the solar cells is a layer of organic light-emitting diodes (OLED) that provide overhead illumination when the doors are opened.
Offering room for two, the smart forvisions's passenger compartment also is a showcase of well-focused and cleverly integrated future tech. The seats, based on a one-piece plastic shell and padded with mass-reducing multi-density foam elements, are covered in a soft, super-absorbent "e-textile" fabric that selectively conducts heat to and away from the body at critical "touch points" while weighing far less than any conventional counterparts. To further reduce the amount of energy required to optimize cabin temperatures, the forvision also incorporates a new strain of BASF-developed infrared-reflective coating into its windshield and side windows along with special insulating foam in various body-panel cavities.
Like its exterior, the forvision's inner sanctum is rendered in a blend of bright white and copper, the former being formulated by BASF using glass flakes to provide greater depth and brilliance. Other interesting design elements include an aircraft-like yoke-style steering wheel, LED digital main instrumentation and an on-board computer controlled by a large oval-shaped multifunction central touchscreen.
Although Daimler provided little information about the smart forvisions's powertrain -- almost certainly a derivative of the EV package fitted to the new smart fortwo ED -- it did note that by implementing the kind of optimized energy efficiency, intelligent temperature management and consistent lightweight construction techniques found in this show car, that the overall operating range could be increased by up to 20 percent.