Small SUVs, Big Capabilities: 2012/2013 Compact Crossover Comparison
by
KBB.com Editors
|
August 30, 2012 8:04 AM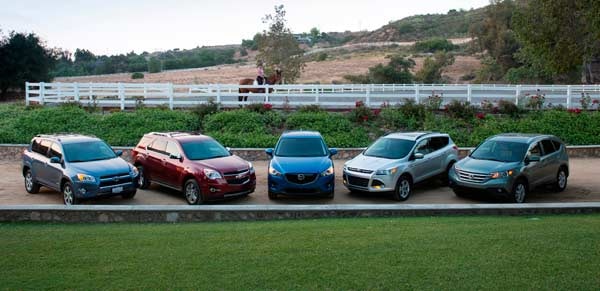 By Tony Swan
Concerns about fuel prices may have tempered America's love affair with sport-utility vehicles, but it has by no means brought it to an end. Think of it as a refocusing, a renewal based on a reassessment of contemporary realities. As a consequence of these re-prioritized priorities, compact SUVs have become one of the hottest categories in a slowly reviving U.S. auto market.
We've rounded up five of the top contenders in the compact-crossover SUV class for this comparison. All are at the affordable end of the spectrum. Three are new -- the Ford Escape, Honda CR-V, and Mazda CX-5. Chevy's Equinox has been with us since the 2010 model year, while the Toyota RAV4 is the group's veteran, its current design dating to 2006. That's well beyond middle age in car years, but as one of the segment's strongest sellers the RAV4 can't be ignored.
We put the vehicles through their paces, poked, prodded, slammed doors, checked connectivity, cargo holds, front seats, back seats, fit, finish, and window stickers, debated details, argued merits, and ultimately came to a consensus.