Scion FR-S Concept (w/video) - 2011 NY Auto Show
by
KBB.com Editors
|
April 21, 2011 10:00 AM
One of the most spectacular show-and-tell sessions in New York involved the reveal of the stunning Scion FR-S Concept. While admitting that the FR-S -- short for Front-engine, Rear-wheel drive, Sport -- is not the final form, Jack Hollis, vice-president of Scion, did confirm that the exercise in extreme possibility thinking is: "A vehicle that will inspire a new model coming to market next year."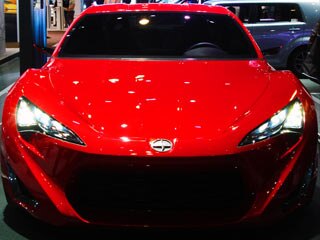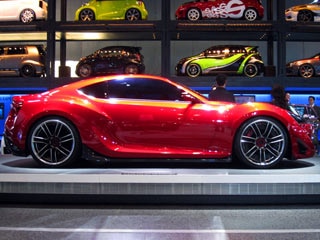 The Scion FR-S Concept -- and its production incarnation -- are likely to share all mechanical bits and virtually all of the key styling elements of the Toyota FT-86 II which was shown last month in Geneva and will make its formal debut at the Tokyo show this fall. While that car will be marketed elsewhere in the world with a Toyota badge, the U.S. will see it here carrying just a Scion logo. Finished in blistering hot "Code Red" paint and with bodywork details that give it an even more striking presence than the redesigned FT-86, the Scion FR-S has looks that can thrill at a moment's notice.
>See more new cars unveiled at the 2011 New York Auto Show
Although a good many details about this 2+2 performance coupe remain undisclosed, it will be based on the collaborative effort between Toyota and Subaru which will also yield a Subie coupe based on this same platform. The Scion FR-S will be powered by a 2.0-liter flat-four fitted with Toyota's D4-S injection system, which uses direct and port injection to increase horsepower and torque throughout the entire rev range without hurting mileage. Set low and relatively far back in the chassis, it's expected to turn out over 200 ponies which will be sent to the rear wheels by either a six-speed manual transmission or a six-speed auto with steering-wheel mounted shift paddles. Other key mechanicals on the FR-S Concept include a limited-slip differential, four-piston-caliper front brakes working with huge 18-inch annular carbon ceramic matrix rotors and staggered-width Five Axis 20-inch alloy wheels.
"Scion is always experimenting with new things," said Hollis. "The brand is iconic with the xB, adrenalized by the tC, and groundbreaking with the iQ. The FR-S will expand the brand into yet another new dimension that I know it is truly destined for."