Rinspeed Dock+Go Concept - Geneva Auto Show
by
KBB.com Editors
|
December 9, 2011 8:32 AM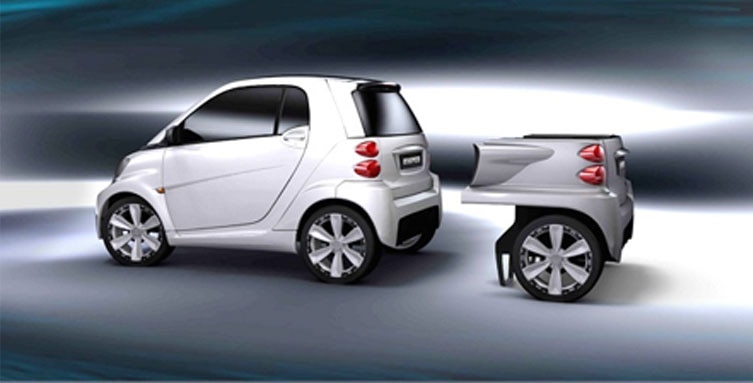 Offering an early look at one way to increase the utility of even the smallest of city cars, the Rinspeed Dock+Go Concept will be on display in March at the Geneva Auto Show. This two-part solution involves the use of a dedicated, easily detachable "backpack" element in the form of a mini trailer supported by its own set of wheels. While applicable to vehicles with any sort of propulsion system, Rinspeed claims the Dock+Go setup also has the potential to serve as a range-extender for those fitted with an electric powertrain, such as the smart fortwo ED Rinspeed used for its Geneva-bound exercise.
According to Rinspeed boss Frank M. Rinderknecht, the "backpacks" can be custom tailored to suit any need, from a mechanic's toolbox to a temperature-controlled maxi chest for food delivery. The most intriguing application involves it being used in connection with an EV to create what Rinderknecht calls the world's first "Vario-Hybrid." According to Rinspeed's prime creative mover, the process involves using the backpack as a separate power source that can be fitted with anything from a small internal combustion engine or a motor/generator/battery pack to a scaled-down fuel cell, all of which can be used to drive the second axle of the car itself and/or provide range-extending energy to the vehicle's internal battery pack.
How effectively this all translates to real world performance remains to be seen. But one can't help but give the Swiss automotive design icon kudos for coming up with yet another interesting mobility concept, and one that provides an innovative way to cope with range anxiety.