Rinspeed BamBoo Concept -- Geneva Auto Show
by
KBB.com Editors
|
February 23, 2011 6:54 AM
Never one to shy away from controversy, Swiss design house Rinspeed has created another in-your-face exercise which it classifies as an "open speedster for the extroverted communicator." Developed and built in consort with Swiss engineering firms 4erC and Esoro, it's a vehicle Rinspeed's head man Frank M. Rinderknecht freely and happily admits "irritates." Paying a cheeky homage to St. Tropez in the '70s, the Rinspeed BamBoo intermixes graphic elements borrowed from New York Pop artist James Rizzi with Rinderknecht's own off-the-wall sensibilities and tosses in a healthy measure of high tech features for good measure, including its advanced electric powertrain and a variety of interactive capabilities.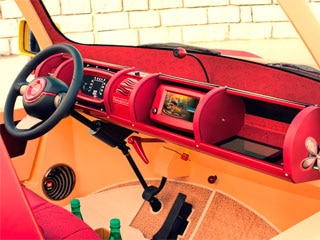 Rinspeed's four-seat city/seaside urban commuter warps a steel chassis with composite and polymer body panels. It's topped by a removable canopy-style inflatable roof that features a water-resistant nano-coating and a Rizzi-designed beach graphic. Up front, a unique "Identiface" screen developed by Daimler's MBtech group replaces the conventional grille and can display a variety of traditional or social-networking messages---even the owner's Facebook pages. Beyond that, a color-changing "Rizzi bird" on the rollbar (green/I'm single; blue/I'm in party mood; orange/I need a break) can convey additional information.
Inside, the Rinspeed BamBoo's cabin mixes fairly minimalist basic design with impressive electronics. Its Bordeaux-red front seat/dash coverings are woven with bamboo thread and feature an integrated BamBoo/Rizzi bird design theme while bamboo wood accents add warmth as well as character to the package. The car's "breadbox" dash incorporates a custom VDO gauge display, Harman/JBL scalable premium audio package with an Aha Radio app, and a 7.0-inch HTC tablet PC that slips into a docking station to allow all aboard to keep in perpetual touch with the outside world. Other unique features include inflatable rear seats that stow in a pair of aluminum cases in its cargo bed along with a foldable electric-powered bike and a specially adapted Swiss army knife in place of a conventional ignition key.
Motivation for the 2,400-pound Rinspeed BamBoo comes from a 72-horsepower high-torque motor. The car reach a top speed of 75 mph an travel 65 miles on a single charge of its battery pack, a distance helped by its 17-inch Goodyear "EfficientGrip" low-rolling resistance tires that are wrapped around 17-inch AEZ three-spoke aluminum billet wheels.
As for its future, all Rinderknecht will admit to is that "constructive talks" have taken place with a number of potential manufacturers about putting a version of the Rinspeed BamBoo into limited production.