Rimac Concept One - Frankfurt Auto Show
by
KBB.com Editors
|
September 19, 2011 10:45 AM
It might not have the name cache of a Ferrari or Lamborghini, but when it comes to pure outrageousness, the Rimac Concept One is in a league of its own. Latest EV exercise from Rimac Automobili -- a little-known but seriously-capable Croatian boutique operation run by Mate Rimac -- this zero-emission all-wheel-drive supercar gets its prodigious go-power from a pair of custom electric motors that turn out a stunning 1,072 horsepower and pavement-shredding 2,803 lb-ft of combined torque. Energy to feed those prime movers comes from a custom 92kWh battery module. Rimac says the 3,638-pound Concept One will charge from zero-to-60 mph in 2.8 seconds and on to an electronically-limited top end of 190 mph. What's more, it also boasts considerable the staying power and is capable of traveling up to 373 miles on a single charge.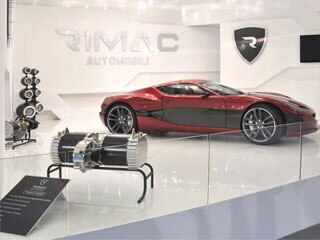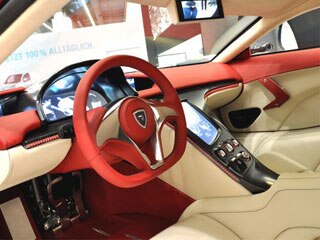 While these claims may sound pretty outrageous, Rimac has the hands-on credentials to make good on them. His previous green "toy" that served as a real-world test-bed for technology being used in the Concept One was an electric-powered BMW E30 3 Series conversion that developed 550 horsepower and 664 pound-feet of twist, could hit 63 mph in 3.2 ticks and run 112 miles on a single charge of its 24kWh battery pack -- which could be recharged in 20 minutes using a standard 240V European outlet.
The dramatic, carbon-fiber bodywork on the Rimac Concept One was styled by Adriano Mudri and the car's leather-swathed cabin was a collaborative effort by a group of former Pininfarina employees. Although performance is its game, the Concept One has no shortage of creature features. Standard kit includes things like soft-close doors and a primo infotainment system as well as a sophisticated heads-up display. Currently located outside of Zagreb, Rimac Automobili intends to build a limited series of 88 Concept One vehicles, with production to start in 2013.