Rhys Millen Racing Hyundai Veloster Rally Car - Chicago Auto Show
by
KBB.com Editors
|
February 9, 2011 7:44 AM
While the production version of the 2012 Hyundai Veloster won't be hitting showrooms until mid year, the automaker did unveil this stunning one-off in Chicago as a preview of things to come. The newest member of its burgeoning motorsport program , this radical all-wheel-drive Veloster variant will be contesting the 2011 U.S. Rallycross Championship that kick off in late March at Irwindale Speedway in Irwindale, California. It also will compete in the Summer X Games with rally/racing/drifting champ Rhys Millen behind the wheel.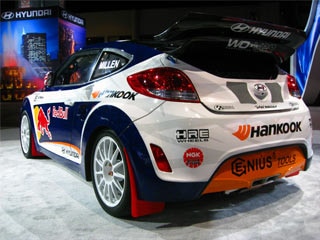 Purpose-built by Rhys Millen Racing and backed by Red Bull, the RMR rally rocket packs a race-spec Hyundai 2.0-liter four cylinder engine fortified with an HKS ball-bearing turbocharger that helps it pump out 500 horsepower and 600 lb-ft of torque. The Veloster's lightened and suitably reinforced steel unit body is wrapped in lightweight carbon/Kevlar bodywork, fitted with custom long-travel suspension, stops using race-spec Alcon disc brakes and rides on 245/40 Hankook Racing tires wrapped around 18-inch fabricated HRE alloy wheels.
The son of legendary racing/rally ace Rod Millen, Rhys and company plan to build two more of these high-velocity Hyundais. The second all-wheel-drive car will be shared rally champion Marcus Dodd and world record freestyle motorbike rider Robbie Maddison as well used by Millen and Maddison at the Summer X Games. A third car will be built to run in the 2WD class in at several U.S. Rallycross Championship events and be piloted by as-yet-unnamed celebrity drivers.
>2011 Toyota Matrix - 2011 Chicago Auto Show
>2012 Buick Regal with eAssist - 2011 Chicago Auto Show
>2012 Fiat 500 - First Drive Review
"We feel the Veloster is a perfect fit for X Games and the U.S. Rallycross Championship series as we expand our motorsports efforts," said Mike O'Brien, vice president, Product and Corporate Planning, Hyundai Motor America. "I teamed up with Rhys' father, Rod, nearly twenty years ago for Hyundai's original Pikes Peak rally program, so it is great to be back in the sport again with his son inspiring a new generation."
Rallycross competitions consist of a five-car scramble on a combined paved/unpaved short road course that includes a variety of jumps, as well as a requisite "Joker" lap that introduces some additional unpredictable challenge. The RMR Red Bull Veloster will face stiff competition from several formidable rivals, including the Ford Fiestas of Ken Block and Tanner Foust, the Mitsubishi EVO X of Antoine L'Estage and the Subaru WRX STIs of David Higgins and Dave Mirra.