Revealed: 2014 Mercedes-Benz S-Class
by
KBB.com Editors
|
May 15, 2013 11:16 AM
Long heralded as the best luxury sedan in the world, the arrival of any new-generation S-Class is always a major automotive event. However, intense competition from more recently redone key rivals like the Audi A8, BMW 7 Series and Lexus LS, coupled with the demise of M-B's short-lived Maybach ultra-brand, have seriously cranked up expectations for this all-new successor to the automaker's traditional flagship sedan. Although it will take time behind the wheel to fully assess how well the 2014 Mercedes-Benz S-Class really does fare when it comes to maintaining overall supremacy in this rarified realm, the official static reveal and accompanying technical details leave no doubt that it sets new benchmarks with respect to style, technology and elegant ambiance.
The 2014 S-Class Sedan is roughly one inch longer, lower and wider than the car it replaces. Like the current model, it will be available in both standard (119.5-inch) and long-wheelbase (124.6-inch) configurations, although only the latter will be sold in the U.S. The new bodyshell continues to match aluminum with high-strength steel, but advanced engineering has increased torsional stiffness of the structure by 50 percent, while further improving its passenger-protection capabilities.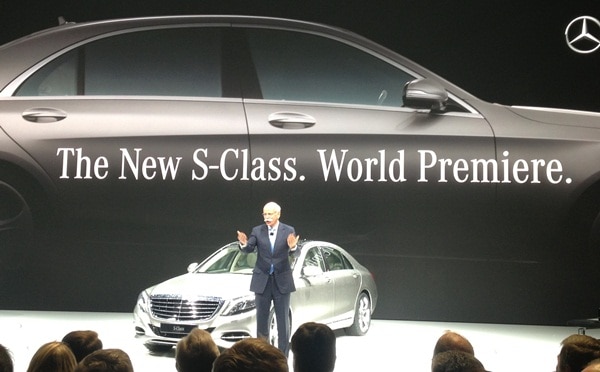 Bold but sophisticated, the exterior styling of the S-Class maintains its classic proportions but brings them up to date with more evocative design flourishes. From its larger, more prominent grille and sweeping profile complemented by side-body sculpting, to its standard LED headlights that auto adapt their beam pattern and intensity to meet different traffic and ambient light conditions, the S-Class has a more sensually aggressive presence. To properly complement that heightened visual spark, extensive aero tweaking has dropped the coefficient of drag on this super sedan to a segment-leading 0.24 figure.
True to earlier preview images, the cabin of the 2014 S-Class elevates luxury and refinement to entirely new levels starting with a variety of polished wood and supple leather trim combinations set off by multi-mode LED ambient lighting and a standard panorama sunroof. For those wanting more than the superb comfort of its redesigned standard front buckets and rear bench, the former can be augmented with new massage function based on the "hot stone principle" while the latter can be upgraded to two individual seats with backs that power recline 37 degrees in the standard-wheelbase model and an industry-best 43.5 degrees on the passenger side in long-wheelbase versions. Other key options include a new Warmth and Comfort Package that adds heat to just about every leather-covered surface, along with an Air Balance Package that can disperse a subtle fragrance throughout the cabin when activated via the car's new Thermotronic multi-zone climate control system.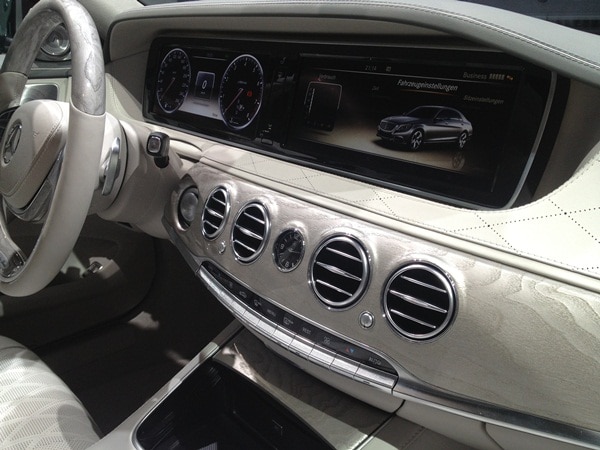 Dual 12.3-inch TFT displays dominate the upper dash in the new S-Class, with the left screen serving as a virtual instrument cluster and the right controlling the infotainment/comfort functions including the new Gen III COMAND telematics with navigation package. In addition to mbrace2 in-car apps/connectivity and iPod/MP3 capability, all U.S. S-Class models will be fitted with a premium 13-speaker/590-watt Burmester audio system.
Like its predecessor, the 2014 S-Class features M-B's Adaptive Damping System Plus but teams it with an enhanced version of the signature Airmatic air suspension. On rear-drive V8 models, the setup can be upgraded with the automaker's new Magic Body Control. This trick tweak adds a pair of cameras behind the windshield that "read" imperfections in the road surface ahead and sends info to a controller unit that instantly modifies the shocks settings for each wheel to compensate.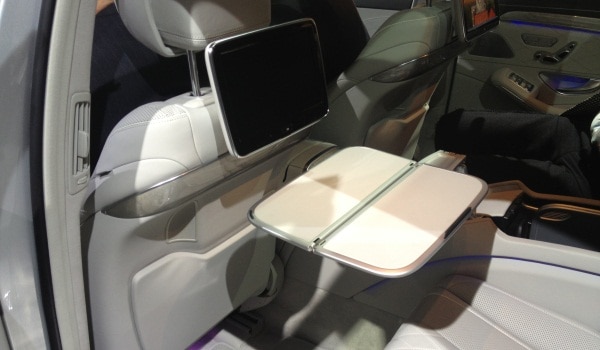 Mercedes provided limited details about the powertrains in the 2014 S-Class models that will start arriving here this fall. The S550 (September) and all-wheel-drive S550 4Matic (November) will both share a 4.7-liter direct-injected twin-turbo V8 that makes 455 horsepower and 516 lb-ft of torque in this application and can take either vehicle from 0-60 mph in 4.8 seconds. Although our 2014 lineup will include an S63 AMG -- also due in November -- M-B has yet to confirm whether its 5.5-liter twin-turbo V8 will continue to make 536 horses and 590 lb-ft of twist or pack even more power.
As always, safety played a huge role in the design of the new Mercedes-Benz S-Class. Beyond its vast array of existing pre/post-impact elements, the new S-Class also boasts standard Collision Prevention Assist. The options roster now includes an enhanced Driver Assistance Package that brings a more multi-faceted version of Active Lane Keeping Assist, Distronic Plus with Steering Assist & Brake Assist Plus, Cross Traffic Assist, and Pre-Safe Brake with Pedestrian Recognition functionality.
Final pricing and official EPA numbers on the 2014 Mercedes-Benz S550, S550 4Matic and S63 AMG will be released closer to their respective on-sale dates.
Audi has now produced over 5 million vehicles with Quattro all-wheel-drive
Bentley is prepping Continental and Mulsanne Le Mans Limited Editions
Maserati's new Ghibli sedan will go on sale in the U.S. later this year