Renault R-Space Concept - Geneva Auto Show
by
KBB.com Editors
|
March 8, 2011 1:49 PM
Renault has a long history of creating innovative people movers, and its latest offering in that area shows the string is still intact. Aimed at the burgeoning breed of contemporary parents who demand an MPV with style as well as versatility, the Renault R-Space Concept drew more than its share of attention in Geneva. "The R-Space brings together qualities long considered opposed: family, functionality, sportiness and sensuality," explained Axel Breun, Director of Design for Concept and Show Cars.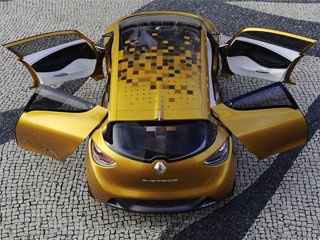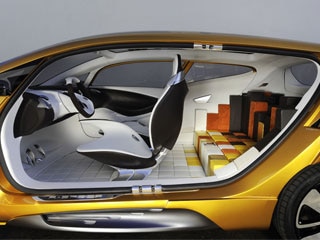 Bold lines and organic contours drawn from forms found in the human body mix combine with a prominent front glass area and gradated panoramic roof to establish a unique visual character for the R-Space, while the absence of a B-pillar eases access/egress. The rear quarters of the Renault R-Space are specifically designed to serve as a play area for kids. An array of power adjustable hexagonal elements operated by 27 individual motors offers four settings programmed settings, including an all-flat surface, a booster seat, a table or a random configuration -- although the last only accessible when the vehicle is parked.
Its myriad concept elements aside, the R-Space does feature one bit of very real upcoming technology: it's super-efficient powertrain. Under the hood is the firm's Energy TCe Concept engine. A product of the Renault-Nissan Alliance, it previews a new production iteration that will start appearing in Renault vehicles within the next year. Making 110 horsepower and 118 lb-ft of torque, this new 900cc (0.9 liter) three-cylinder turbocharged/direct injected gasoline engine is fitted with a host of trick tech features, including variable valve timing, start/stop and advanced thermal management circuitry and a new strain of radio frequency spark plugs that were developed in concert with BorgWarner Beru Systems and which amplify spark intensity 1,000 times beyond a conventional plug to maximize combustion efficiency. Paired with an electronically activated Efficient Dual Clutch automatic transmission, the TCe engine can send the Renault R-Space concept from 0-62 mph in 11.2 seconds while returning 64 mpg.