Renault Frendzy Concept - Frankfurt Auto Show
by
KBB.com Editors
|
July 11, 2011 11:46 AM
A strong proponent of going green whenever and wherever possible, Renault highlighted its Frankfurt festivities with the first public display of a multi-functional electric-powered vanette intended to serve with equal élan as a mobile office or a personal passenger vehicle. The Renault Frendzy Concept is the fourth in a sequence of eco-friendly vehicles that includes the DeZir, Captur and most recently, the R-Space. Each is aimed at serving the unique functional needs of individuals at a different stage of their life stages. Laurens van den Acker, Senior Vice President, Design Renault, characterizes the Frendzy as a congenial and capable partner cast to help take the strain out of today's high-intensity lifestyle that forces people to channel hop between the demands of their personal and professional worlds.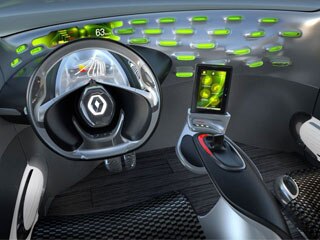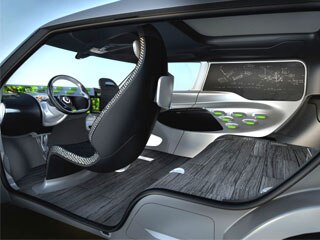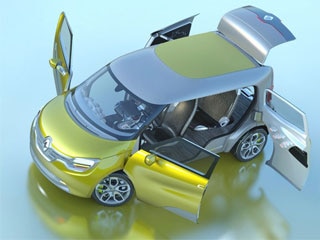 Both the exterior and interior of the Renault Frendzy Concept are designed reflect its multifaceted role. The Frendzy's asymmetric body configuration complements form with additional function, which it sets off with highly stylized front and rear lighting treatments. On the passenger side, the Frendzy's conventional front door is paired with a sliding rear unit that replaces its window with a 37-inch exterior display screen that can be programmed to deliver any type of informational or advertising message. The driver's side also eliminates the B-pillar but features an even larger, more passenger-friendly access opening framed by front- and rear- hinged doors. Its built-in soft roof panel accommodates odd-shaped cargo, while a two-piece rear hatch facilitates loading/unloading chores.
Inside, this dual-mode motif continues with design elements that place equal emphasis on work and recreation. A molten-metal-look dash is matched with warm wood floor trim and leather latticework seat coverings. The trick forward-folding front buckets team with a single-piece hideaway rear bench, and easily reconfigurable storage bins work with magnetic anchor points in the floor to better contend with cargo or people as the need dictates.
Other innovative Frendzy touches include a dedicated Blackberry Playbook tablet that plugs directly into the center console and integrates itself with the vehicle's on-board functions, a truly awesome array of access ports to link in various personal electronic devices, commercial RFID (Radio Frequency Identification) tag readers in the doors that can automatically inventory any cargo movement in real time, and ambient lighting that changes from green when the Frendzy is on the job to a warm orange when its operating in family mode. It even features two distinct sets of sonic signature tones that provide aural confirmation of its work-versus-play persona.
The Renault Frendzy Concept shares its powertrain with Renault's earlier Kangoo Z.E. Concept, using a floor-mounted lithium-ion battery pack to energize a 70kW (94 horsepower) electric motor that produces 167 lb-ft of torque. While no other specifics were offered for the Frendzy, this combo gives the Kangoo a 99-mile range and a top speed of 81 mph. Full battery replenishment requires four to eight hours using a standard wall outlet or 20 minutes for a "quick charge" on a dedicated commercial station.