Renault CAPTUR Concept - The shape of tomorrow set for Geneva debut
by
KBB.com Editors
|
February 15, 2011 11:15 AM
Expanding on the "Drive the Change" design language the automaker introduced on its electric-powered DeZir Concept unveiled last summer in Paris, the Renault CAPTUR Concept is the latest one-off to embody the brand's new vision for creating vehicles that are "simple, sensuous, and warm." Unlike the DeZir, the CAPTUR gets its motivation from a super-clean/super-efficient internal-combustion engine. More importantly, Renault says that despite its "concept" status, this sporty two-seater also previews an upcoming production variant.
Renault director of design, Laurens Van den Acker describes the CAPTUR as "a fun and sporty crossover, ideal for a young couple about to discover the world. "It takes as its basis the fundamental design language introduced on the DeZir concept car but adds a more technical dimension -- more functional but still highly sensuous," adds Axel Breun, director of concept cars.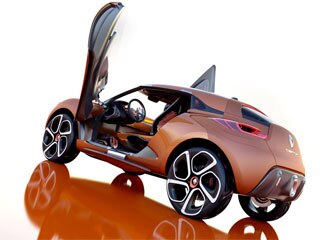 Inspired by athletes and radical sports, the CAPTUR's vibrant orange bodywork features powerful, flowing contours that meld high tech with sophistication and lightness. Innovative use of LED lighting elements, swan-wing flip-forward doors and a removable hard top with a carbon-fiber lattice underframe that allows the CAPTUR to change from crossover coupe to convertible are complemented by its highly stylized 22-inch black-and-white wheel/tire fitment.
The active life theme continues inside. Up front, color-matched slimline carbon-fiber bucket seats fixed to the center console are matched with translucent orange plastic on the dash, door panels and center console. The liberal use of high-tech fiber elastic "ropes" carries to the CAPTUR's rear quarters, where these partially-luminescent elements can be configured to secure cargo or form a pair of adult-scaled flexy seats.
To help create a more relaxed driving environment, the CAPTUR also introduces Renault's new Visio-system. It features a forward facing camera mounted on the top of the windshield and a central display to present a mix of actual and synthesized real-time images that intermix to create an "augmented reality" designers say enhances the driver's perception while lowering stress levels.
Underhood, the Renault CAPTUR Concept carries a suitably advanced powertrain. Key component is its Energy dCi 160 twin-turbo diesel engine. A slightly larger version of the recently announced Energy cDi130 Concept engine, this 1.6-liter four-cylinder produces 160 horsepower and 280 lb-ft of peak torque at just 1,750 rpm. It's paired with a new EDC Efficient Dual Clutch six-speed automatic that Renault claims can deliver up to 17 percent greater fuel economy than a conventional counterpart while helping reduce CO2 emissions to a scant 99g/km. As a finishing dynamic touch, the CAPTUR also features a new RX2 mechanical self-locking differential that can automatically direct torque to the wheel with the greatest amount of traction.