Porsche Cars North America sets out on a 'Classic' mission
by
KBB.com Editors
|
August 18, 2010 6:29 AM
This year marks the 60th anniversary of Porsche in the U.S., and to commemorate that milestone, Porsche Cars North America (PCNA) has launched a pair of search-and-enjoy "competitions" that will bring modest fame and some pretty nifty prizes to several fortunate fans of the marque.
Anchoring the undertaking is the "My Classic Porsche Search," intended to find and verify the oldest Porsche models in 12 categories (Porsche 356, 911, 912, 914, 924, 928, 944, 968, Boxster, Cayenne, Carrera GT and Cayman) as well as documenting the Grossvater of all Porsches on American soil, the single oldest example ever sold here. Open to all properly-documented vehicles -- whose provenance will be verified by a Porsche panel of experts, including noted American Porsche historians from the Porsche Club of America -- owners of the eldest-in-class examples will be singled out with several cool perks. In addition to getting an exclusive badge from the Porsche Museum in Stuttgart, photos of select vehicles will be featured at the new "Sixty Years of Porsche in America" exhibit that opens on October 12 at the Porsche Museum in Stuttgart, Germany. One vehicle may also join other Porsches on display at this year's Los Angeles Auto Show in December.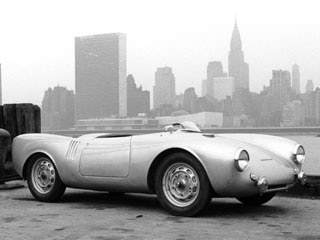 For those not fortunate enough to own one of these rare "distinguished dozen" heritage vehicles, PCNA also is underwriting the "My Porsche Passion Contest." Open to any member of the fanbase, the competition seeks short (500 words-or-less) essays that exemplify an individual's personal passion for the automaker, whether it relates to a specific Porsche model, a memorable experience or the brand as a whole. Entries will be accepted until November 1st when 20 winning stories will be selected by a panel of Porsche-picked judges. From there, fans will be asked to vote online for their favorites, and the three most popular essays will earn their writers an all-expenses-paid trip the Porsche Sport Driving School in Birmingham, Alabama. For complete details on both the My Classic Porsche Search and the My Porsche Passion Contest, visit Porsche60Years.com.