Porsche 911 GT3 R Hybrid 2.0 loses weight and gains power
by
KBB.com Editors
|
March 18, 2011 12:31 PM
The latest -- and arguably most interesting -- chapter in Porsche's ongoing efforts in the hybrid performance arena has just opened with the unveiling of a revised, even meaner, greener version of its production-based gasoline/electric racer. Officially dubbed the Porsche 911 GT3 R Hybrid 2.0, this more focused revamp is 110 pounds lighter -- now 2,866 pounds -- and can produce 25 percent more power from each of the electric motors used to drive its front wheels. The Porsche 911 GT3 R Hybrid 2.0, is set to make its debut outing at the upcoming 24 hours of Nürburgring endurance race in June.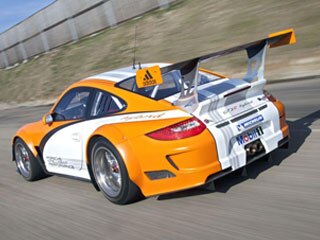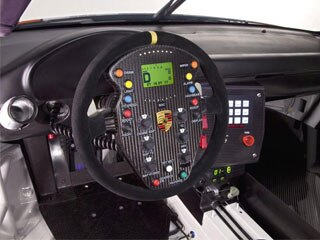 Porsche's goal for this new "2.0" variant is to be able to maintain the same overall lap times but to do so with even better fuel economy. That will directly translate into fewer and shorter pit stops, a key factor to success in any long-distance competition. Last year, the original Porsche 911 GT3 R Hybrid led eight hours of the event but was forced to retire from the front-running spot with less than two hours remaining due to a rare mechanical failure in its gasoline engine.
Although Porsche did not reveal specific details on what led to the weight reduction of the hybrid components, it did confirm that this "optimized" package is some 20 percent lighter than before and that the electric flywheel accumulator, which was developed by the Williams F1 race team, is now packaged with the car's other high-voltage components in the area normally occupied by the passenger seat. Output of each front wheel-motor in the Porsche 911 GT3 R Hybrid 2.0 has been upped from 60 to 75kW (82 to 101 horsepower). This extra muscle can be manually dialed up by the driver or automatically engaged via the throttle pedal for short periods of time to bolster the 470 full-time horses of its rear-mounted 4.0-liter flat-six gas engine. Using this potent combination of motivation methods offers both enhanced straight-line acceleration and improved cornering capability due to all-wheel drive.
There are several other noteworthy changes that set this new Porsche 911 GT3 R Hybrid 2.0 apart from its predecessor. The most obvious is its sleeker bodywork, an aero gain that comes from eliminating the prominent rear-fender cooling intakes which are no longer required thanks to the improved hybrid setup. Inside, the cockpit design has been tidied up as well, moving all major readouts and controls to a redesigned steering wheel and placing supplemental switchgear on a new electronic display screen on the center console.
"We've collected a great deal of information from our races on the Nürburgring, at the ALMS race at Road Atlanta, as well as from the ILMC race on China's Zhuhai circuit. The data was invaluable for the further development of our racing laboratory," says Hartmut Kristen, head of Porsche motorsport. "The emphasis of our work was on improving efficiency. That means we want to keep the lap times consistent with 2010 but use less energy, hence less fuel. In this way, we support future developments of road-going, sporting hybrid vehicles."