Peugeot HX1 Concept - Frankfurt Auto Show
by
KBB.com Editors
|
August 31, 2011 8:52 AM
Offering a look at the automaker's latest take on tomorrow's hybrid-powered people movers, the Peugeot HX1 Concept makes its world debut in Frankfurt. Long, low and wide, this stylishly luxurious four-/six-passenger multipurpose vehicle relies on a new, plug-in-capable, diesel-electric version of the existing Peugeot-Citroen HYbrid4 system that was first introduced in gasoline/electric form on the firm's SR1 Concept roadster at Geneva in 2010.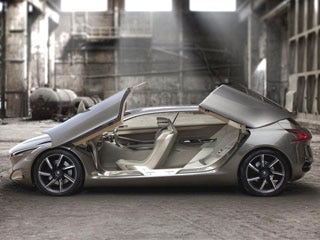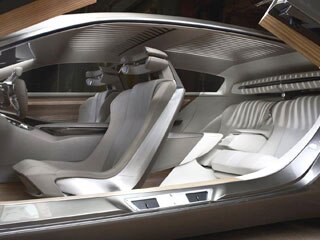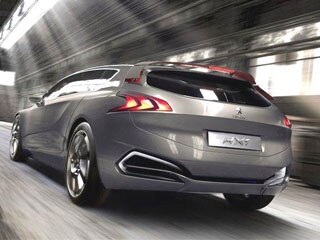 Built on a dedicated platform that's roughly the size of a Mercedes-Benz R-Class, the HX1 Concept gets its motivation from a 204-horsepower/2.2-liter four-cylinder HDi turbodiesel up front, coupled with a 95-horsepower motor that drives the rear wheels. Total system output is an impressive 299 ponies and it earns Euro-cycle econo numbers of 88.2 mpg while emitting just 83g/km of CO2. With its newly-acquired plug-in functionality and an advanced lithium-ion battery pack, Peugeot says the HX1 Concept can travel up to 18.6 miles in pure EV mode, although it offered no guidance as to recharging times.
Its clean, green character aside, the Peugeot HX1 Concept also makes a bold and elegant styling statement, inside and out. The fluid-yet-muscular exterior lines meld with signature Peugeot character cues and avant-garde LED lighting treatments set off by alloy wheels that feature special blades that extend between each of the seven spokes to create a flat disc that improves airflow. The HX1 also features a subtle rear spoiler atop its tailgate. flanked by a pair of active-aero side skirts that automatically deploy at speeds above 62 mph. Collectively, they help endow this futuristic MPV with a super-low drag coefficient of 0.28.
Access to the HX1 Concept is through four reverse-opening "half-scissor" doors that appropriately raise expectations of all who enter its superbly-appointed cabin. While its normal configuration accommodates four with room to sprawl in all spots, the HX1 also has a pair of retractable "pull-out seats" that normally remain tucked in behind the front buckets. Further expanding on Peugeot's "Motion and Emotion" brand design philosophy, the HX1 Concept pushes the limits of convention with unique detail touches like a floor and fittings made of natural oak, inlaid fiber optics, supple leather seat coverings and polished alloy trim that team with a heads-up display and multiple driver-configurable touch-screens.
Passengers in the HX1's expansive rear quarters enjoy a similarly luxurious environment, with fully-reclining individual contoured seats, a bounty of folded and hand-stitched leather, and a console topped in hand-milled Carrare marble that contains both a coffeemaker and a mini-bar. While the HX1 Concept may not actually morph into a Peugeot production MPV circa 2020, the automaker says the design thinking it embodies will definitely typify the kind of innovative approaches it intends to incorporate into future premium models.