Peugeot EX1 Concept -- Paris Auto Show
by
KBB.com Editors
|
September 22, 2010 1:26 PM
It's most ambitious take yet on an electric-powered vehicle; the striking Peugeot EX1 Concept is meant to serve as the automaker's Paris centerpiece as well as celebrate the Peugeot family's 200th anniversary in various manufacturing enterprises. While the French firm's first modern EV -- the i0n city car -- is preparing to hit showrooms shortly, the radical EX1 seeks to expand the envelope for what could lie ahead.
Shaped like a water droplet and crafted using cues from Peugeot's new stylistic design codes introduced in its SR1 concept car, the EX1 Concept's overtly sinister contours are set off by a "floating" front grille, prominent side scalloping, LED lighting and various polished aluminum trim bits. Made from carbon/honeycomb composites, this lightweight two-seat roadster features rear-hinged doors as well as dual control handles in place of a conventional steering wheel and individual display readouts for both the driver and passenger. Underpinning it all is an innovative suspension that copes with the Peugeot EX1 Concept staggered-width track dimensions by matching conventional double wishbones up front with a single rear swing arm that controls the more closely-spaced rear wheels.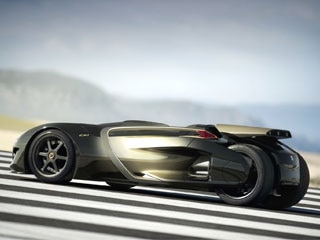 Powering the Peugeot EX1 Concept is a pair of electric motors, one at each axle. Collectively producing 340 horsepower, they endow the car with literally world-class acceleration in excess of 1.0g. Driven by Nicolas Vanier, famed French explorer and film-maker, the Peugeot EX1 Concept recently streaked through the quarter mile in 14.4 seconds, did the standing kilometer in 28.16 ticks and the standing mile in 41.09 seconds as well as hitting a top speed of 161 mph. All of those -- and several more EV performance marks -- are currently awaiting official FIA certification and Peugeot claims there's still a good deal more capability in the package.