Nissan will build 4-cylinder engines in U.S. for Mercedes-Benz and Infiniti
by
KBB.com Editors
|
May 10, 2012 12:28 PM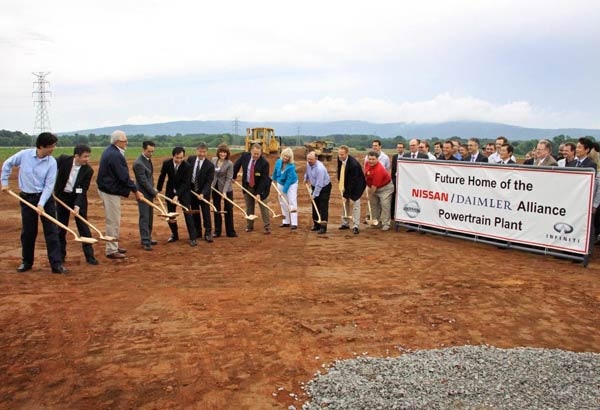 Adding a new dimension to its U.S. production presence, Nissan has broken ground on a new facility in Decherd, Tennessee, which will produce a new family of 4-cylinder gasoline engines that will be used in both Infiniti and Mercedes-Benz vehicles. The plant, to be located adjacent to Nissan's existing engine factory, will be capable of turning out 250,000 units annually. It represents the latest development in a collaborative effort between Daimler and the Nissan-Renault Alliance that began in 2010 and has now taken on even broader long-term implications.
While offering few technical details, Nissan did confirm the new 4-cylinder engine is destined for use in the all-new 2014 Mercedes-Benz C-Class that will be manufactured at the M-B plant in Tuscaloosa, Alabama, as well as in a new global compact model from Infiniti. While still unnamed, this entry level Infiniti will be underpinned by a version of M-B's MFA (Modular Front-drive Architecture) used in the new A-Class and B-Class models. Similar in character to the Infiniti Etherea concept car presented at the 2011 Geneva Auto Show, it will be built in Austria by contract manufacturer Magna Steyr starting in 2014. Initial sales are slated for the European market, but given Infiniti's announced intention to become even more of a player in the international luxury market, there's at least a reasonable chance we'll also see this car in the U.S. at some point.
"Today, we begin an exciting new chapter for the Renault-Nissan Alliance and our continued investment in the United States," noted Mark Swenson, Vice President Production Engineering and Component Facilities. "Today's groundbreaking marks the latest move in our collaboration with Daimler to localize production capacity and enhance our competitiveness in the global market."