Nissan Townpod Concept -- Paris Auto Show
by
KBB.com Editors
|
October 12, 2010 12:11 PM
Based largely on the basic platform and EV powertrain elements found in the production LEAF model, the Nissan Townpod Concept offers the most user-centric take yet on the electric vehicle scene while bringing its own sense of style and flexibility to the package. Combining the practicality of a passenger car with the utility of a light commercial vehicle, the Townpod is being positioned as a genre-busting "tool for today's entrepreneurs" that owners can customize to meet their specific functional requirements to operate in today's urban environments.
Rendered in Stratosphere White, the Nissan Townpod's soft exterior contours are set off by a number of interesting details. It's front-positioned charging port surround as well as the door handles, license plate frame and the spokes of its alloy wheels are accented in electric blue while the retractable "blue petals" that cover its pod-like front lamps effectively create azure-tinted marker lights when in their closed position. In lieu of a conventional sunroof, the Townpod boast a pair of top elements that open longitudinally. But the real key to the functionality of this new Nissan production hopeful is found in its easy-access character that results from eliminating the B-pillar and fitting rear-hinged rear side doors and split rear doors that open onto a low, flat cargo floor.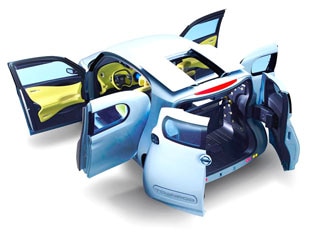 >2010 Paris Auto Show Home
>Mini Scooter E Concept - Paris Auto Show
>2011 Honda Jazz Hybrid - Paris Auto Show

The utilitarian funk flavor carries over inside, as well, where the Townpod's front buckets are covered in a fun-flavored yellow cloth but the sliding rear bench seat is done in a more business-like blue. A slim-line design allows it be folded directly into the front seatbacks to open up a huge stow area should the need arise. The Townpod features a pair of centrally mounted touch-screen display screens that control all of the ancillary vehicle functions, from climate and audio control to navigation and battery status. This nifty Nissan also is equipped with the latest in Bluetooth technology that allows it to directly and automatically communicate with the owner's PDA or smartphone.
Although no formal confirmation on the ultimate status of the Nissan Townpod, a volume-build version certainly seems possible at some point within the next two years.