Nissan Juke-R Concept -- High-profile hauler gets the soul of a GT-R
by
KBB.com Editors
|
October 10, 2011 10:59 AM
From the moment it arrived on the scene in 2010, the Nissan Juke has always been a notorious wave maker. Now, the automaker is taking its uniquely styled compact crossover into a whole new realm of high-profile intensity with the Nissan Juke-R Concept. Beneath its even more-boldly rendered exterior, this street-legal road-rager is fitted with the full complement of powertrain and driveline elements from the blisteringly quick Nissan GT-R super coupe.
Conceived at the Nissan Technical Center for Europe (NTC-E), the Juke-R is currently under construction by noted racing specialists and long-time Nissan motorsports partner, Ray Mallock Limited (RML). Nissan has commissioned RML to build only two of these trick Juke-R models, one left-hand drive and one right-hand drive. Both are scheduled to start on-track testing in November.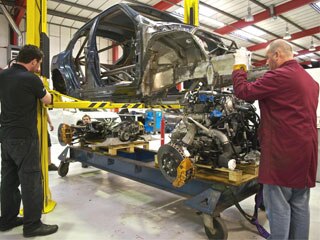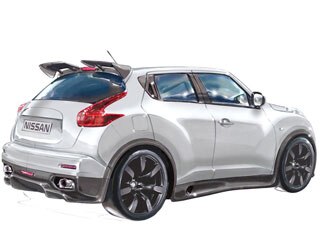 While retaining most of the Juke's basic visual cues, this R-spec variant does receive a number of unique function-related upgrades: A bolder front fascia with deeper splitter and a rear cap with a prominent diffuser, NACA-type hood scoops, more sculpted side sills and a special split rear wing head the list while its aggressively ballooned fender flares house superlight 20-inch RAYS alloy wheels and super grippy tires borrowed from the GT-R. Inside, the Juke-R displays even more competition flair, thanks to an FIA-compliant visible roll cage and two racing seats with five-point harnesses as well as major revisions to its dash to accommodate the instrumentation and 7.0-inch LCD display from the GT-R.
According to RML, the biggest challenges to making the Juke-R live up to its potential involves fitting the specially-modified GT-R powertrain and chassis components to an all-new dedicated substructure. That includes the GT-R's 3.8-liter twin-turbocharged V6 underhood (which has been upped to 530 horsepower for 2012) and its rear-mounted 6-speed automated manual transaxle. Joining the two are a duly-modified version of the GT-R's ATTESA-ETS all-wheel-drive (AWD) system and a shortened prop shaft assembly, duly complemented by associated GT-R suspension bits and super-sized Brembo brakes. No word on performance numbers, but with the Nissan GT-R being able to hit that benchmark figure in around three seconds, the Juke-R should be breathtakingly quick and possess similarly brilliant handling capabilities.
In announcing the Juke-R project, Paul Willcox, Senior Vice President, Sales and Marketing for Nissan in Europe, noted: "Juke lends itself perfectly to a sports derivative and Juke-R explores that territory. Equally at home on road and track, Juke-R showcases two of the most exciting cars in our range and highlights the technical innovation that drives Nissan. It will more than live up to the dynamic driving experience we engineer into all our cars."