Nissan Juke Nismo Concept - 2011 Tokyo Motor Show
by
KBB.com Editors
|
November 29, 2011 1:43 PM
While still just a promising one-off, the Nissan Juke Nismo Concept offers a glimpse at what a "premium sport version" of this compact crossover might look like at some point down the road. More important, its presence in Tokyo heralds the start of a new and more universal involvement by the Nissan Motorsports International Co., Ltd (aka Nismo) operation in developing a host of new production models to go along with the competition parts and race vehicles it currently turns out.
Created by the automaker's highly regarded performance arm and finished in signature Nismo colors of pearl white and red, this super Juke show vehicle is fitted with a tastefully aero-tweaked full body kit and boasts a 19-inch wheel/tire package inside its more prominently blistered fenders.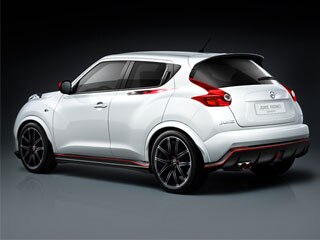 While specifics were not provided, the Juke's 1.6-liter turbocharged engine got a retune to deliver more power and torque and Nismo suspension bits were installed to drop the ride height and improve handling responsiveness. A similar kind of Nismo influence is found inside the cabin of this even-higher profile Juke. Leather-trimmed sport seats, a custom steering wheel and pedals and revised gauges are set off by more competition-oriented accent elements, including a unique metallic coating on the Juke's center console.
As for the prospects of applying Nismo's track-tested expertise to more Nissan production cars, Carlos Ghosn, Nissan President and CEO made it clear he intends to fully exploit what he sees as largely untapped potential. "The time is now right to let ordinary drivers experience what our racing drivers enjoy every time they head out onto the track. We aim to bring Nismo's passion and focus on driving excitement to mainstream models." While the direct impact of Ghosn's dictum on Nissan's U.S. lineup remains uncertain, his statement leaves no doubt the Nismo name will take on far greater prominence in this critical market.
In addition to developing even more bespoke turn-key performance variants, Nismo has been charged with expanding its already fairly extensive catalog of performance parts and accessories. It also announced plans to relocate to an all-new purpose-designed global headquarters in Tsurumi, Yokohama, by early 2013.