Next-gen Mercedes-Benz SL-Class spied testing
by
KBB.com Editors
|
November 23, 2011 9:21 AM
Although a full reveal will have to wait until it appears in production form on the floor of the Detroit Auto Show in January, the first officially sanctioned spy shots and selected info bits on the all-new 2013 Mercedes-Benz SL-Class have begun leaking out from the factory. The prime change in the next-gen SL-Class will be a move from steel to aluminum-intensive construction, a change that yields a stiffer, stronger structure that's also about 242 pounds lighter than the one in the current car. That, plus a host of other mass-reducing design elements, results in a total weight reduction of nearly 310 pounds.
The new SL-Class also will introduce at least two other bits of trick technology. To help keep the windshield clean at all times, Mercedes has created a new washer/wiper system that has fluid channels integrated into the blade itself. Dubbed Magic Vision Control, this more advanced take on a conventional wet-arm system applies liquid onto the windshield directly ahead of the wiper so that it's never visible to the driver but still manages to do a superior job of keeping the screen clear.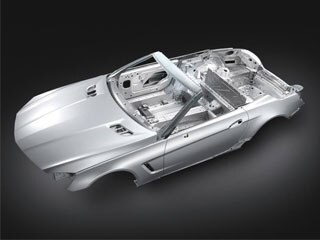 Well-heeled audiophiles also will have reason to await the arrival of the new Mercedes-Benz SL-Class. It will be the first vehicle to employ what the automaker is calling its FrontBass system. FrontBass uses open areas in the aluminum structures ahead of the footwells as tuned resonance chambers for the bass speakers. Mercedes claims this innovation allows the audio system in the new SL to reproduce bass sounds with concert hall crispness and clarity, with the top up or down.