New-gen smart fortwo ED --- Frankfurt Auto Show preview
by
KBB.com Editors
|
August 19, 2011 12:10 PM
Hoping to infuse the smart brand with a new level of international appeal i, parent-company Daimler has taken the wraps off of the new, third-generation smart fortwo electric drive. As diminutive as ever, the latest and greenest iteration of this pioneering urban commuter will launch in 30 countries starting in the spring---including the U.S.---with more power, better performance and slightly greater range as well as a slick quick charger option.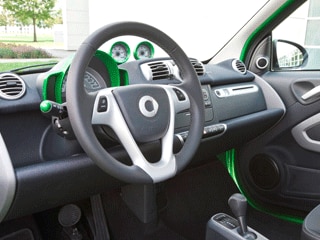 The Gen III smart fortwo ED benefits from an all-new drivetrain. At its heart is a magneto-electric motor developed by EM-motive, the first product from Daimler's joint venture deal with Bosch. It churns out 35kW (47 hp) of constant power and 55kW (74 hp) of peak energy---a 75 percent bump in both output figures compared to its predecessor---along with 96 lb-ft of torque. That's sufficient to send the smart fortwo ED from 0-37 mph in 5.0 seconds, 0-62 mph in 13.0 ticks and gives it a top end of more than 75 mph. The previous Tesla-sourced lithium-ion battery pack has given way to a new 17.6kWh alternative supplied by Deutsche ACCUmotive, another JV operation with Evonik Industries. Coupled with various other improvements to the electrical systems, this new power source provides a per-charge range of more than 87 miles. While it can be fully replenished in eight hours from a conventional wall outlet, the latest fortwo ED will offer an optional 22kW on-board charger that can do the job in less than an hour using a suitable quick-charging facility.
In addition to all of the latest exterior styling elements found on its gasoline-powered counterpart, this latest smart fortwo ED also boasts even more creature features than its electric predecessor, whether ordered up as a coupe or soft-top convertible. In addition to a full array of power assists, air conditioning, trip computer, a multifaceted dedicated smart iPhone app and the ability to pre-coo/pre-heat the cabin when the car is plugged in for charging, owners of the new smart fortwo ED will now be able to start the pre-cooling process from a remote location via an internet or smartphone connection. In addition to marketing it in nearly twice as many countries, Daimler is seeking to raise total sales numbers of the new smart fortwo ED from 2,000 of its predecessor into "five-figure" territory. Expect more guidance on pricing and specific on-sale dates in Frankfurt.