New Mopar kit turns your Jeep Wrangler Unlimited into a mini-pickup
by
KBB.com Editors
|
July 18, 2011 7:39 AM
Responding to requests from a number of Jeep Wrangler owners, the Mopar Division has just released a complete do-it-yourself package that will allow any four-door Jeep Wrangler Unlimited to be converted into a two-door mini-pickup truck. First shown at the annual Moab Jeep Safari earlier this spring, the Mopar JK-8 Kit (Part #77070049) retails for $5,499 and comes with full instructions -- although the makeover process also can be performed by any authorized Chrysler Group dealer. It includes everything required to morph this real-world transformer into its new configuration, including a 44x50-inch steel bed, stamped steel inner and outer bedsides, sport bar extensions, Freedom Panel assemblies, a fiberglass bulkhead, removable fiberglass hardtop with a sliding rear window and two fixed side windows.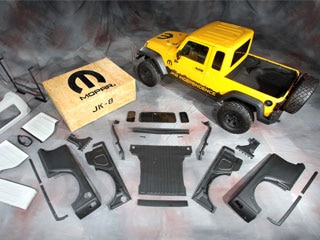 Those with a bit of long-term Jeep perspective will note that the Mopar JK-8 package borrows a number of key visual cues from the '80s-era Jeep Scrambler CJ-8. As an homage to that historic link, the kit also includes a special badge on the left rear quarter panel that pays tribute to both the CJ-8 and its predecessor, the original military-spec Jeep J-8.
In announcing the availability of the new JK-8 package, Pietro Gorlier, President and CEO, Mopar, Chrysler Group LLC's service, parts and customer-care brand, noted that Jeep Wrangler and Wrangler Unlimited are currently among the most heavily personalized models in the division's lineup with buyers already spending over $500 on Mopar accessories for their vehicles. "For Jeep Wrangler Unlimited owners, our new Mopar JK-8 kit answers the call for even more radical customization. And it's yet another example of how Mopar will continue to support our brands with innovative features."