New Mitsubishi Attrage shows its face, could head here by 2015
by
Bob Nagy
|
May 23, 2013 8:49 AM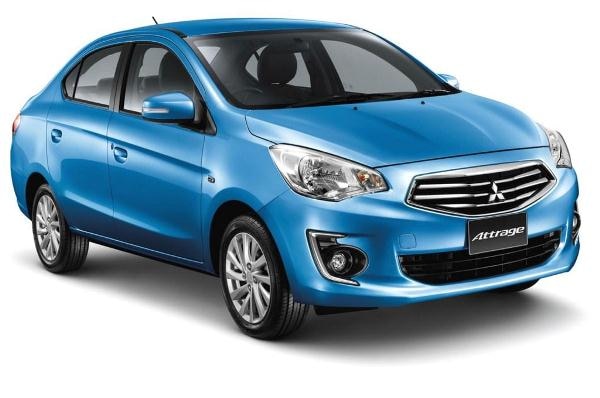 Presented as the Concept G4 at the Shanghai Auto Show in April, Mitsubishi has now revealed a photo of the production version of its new global compact sedan, which will be called the Attrage. On sale next month in Thailand, the Attrage shares all of the basic styling fundamentals seen in its one-off predecessor but sports considerably more real-world detailing in the grille and lighting treatments.
Also: 10 Coolest Cars Under $25,000
Mitsubishi says this new 4-door rival to cars like the Chevy Spark, Ford Fiesta, Nissan Versa and Toyota Yaris derives its name from the English word "attractive." The automaker has done everything possible to ensure the vehicle lives up to that appellation on virtually all functional levels. Like its 2014 Mirage 5-door platform-mate that arrives here in the fall, the Attrage features loads of high-strength steel and Mitsu's RISE (Reinforced Impact Safety Evolution) body structure, a matchup that makes it one of the lightest but strongest vehicles in its class. A chassis tuned for responsiveness coupled with a 31.5-foot turning circle also promises to make the Attrage agile and maneuverable.
Also: 12 Top Mid-Size Sedans from the Class of 2013-2014
Motivation for the Attrage comes from the automaker's 1.2-liter/3-cylinder MIVEC gasoline engine that develops 74 horsepower and is backed by a continuously variable automatic transmission (CVT). That combo -- pegged to earn a 40-mpg combined EPA rating in the Mirage -- should make the Attrage one of the most fuel-efficient players in the compact sedan segment. Rounding out its personality, the Attrage boasts a larger-than-average passenger compartment that offers "generous" rear legroom.
According to Mitsubishi, whether this new compact sedan comes to America and what name it may carry here are still undecided. However, our source also noted that the earliest target date for any possible U.S. appearance would be "around 2015."
You'll Also Like To Know...
• The Kia Forte Sedan has been completely redesigned for 2014
• The 2013 Honda Civic earned top safety marks from NTHSA and the IIHS
• The 2014 Nissan Versa remains the most affordable new car in the U.S.