New Chevrolet Colorado mid-size pickup will be sold in America
by
KBB.com Editors
|
October 11, 2011 2:09 PM
Although its official launch timing and model specifics have yet to be disclosed, Chevrolet has confirmed that it's all-new global mid-size pickup truck will be coming to the U.S. Using body-on-frame architecture developed by GM do Brasil and engineered to meet the world's most demanding safety standards, the new-gen Chevrolet Colorado initially goes on sale in Thailand - the world's largest pickup market -- later this month. At launch, the Colorado will be available in rear- and four-wheel-drive configurations as well as regular, extended-cab and crew cab variants; all powered by either a 2.5-liter or 2.8-liter Duramax turbodiesel engine.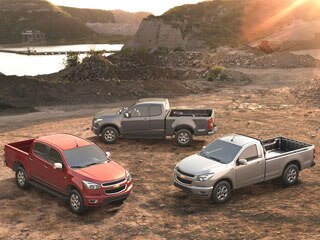 The end result of five years time and a $2 billion investment, the Colorado's fundamental platform engineering will remain common regardless of where it's sold. However, Brad Merkel, global vehicle line executive, indicated that, as it did for the Thai market, Chevrolet plans to custom tailor both its capabilities and packaging to best meet the requirements of buyers in each individual country. "Our objective from the beginning of the program was 'haul anything, go anywhere' - and that's exactly what the new Colorado delivers," Merkel noted. "We have engineered it to meet the needs and desires of commercial and personal buyers alike. It can be a workhorse, a family hauler, a lifestyle vehicle, or a truck that plays to the higher-end premium buyer."
"The new Chevrolet Colorado is generating a lot of excitement as we begin its launch in Thailand," said Chris Perry, vice president, global marketing and strategy for Chevrolet. "We think the design, capability and fuel efficiency of the new Colorado will make it attractive to U.S. customers." While Chevy has confirmed that the current-generation Colorado pickup will be built through the 2012 model year at GM's assembly plant in Shreveport, Louisiana, it appears this all-new successor will likely roll off a production line at a GM facility in Wentzville, Missouri, most probably as a 2013 model. No word so far on the future fate of the Colorado's twin-beneath-the-skin, the GMC Canyon.