New Audi 2.0-liter TFSI engine set next-gen A4
by
Bob Nagy
|
May 7, 2015 8:02 AM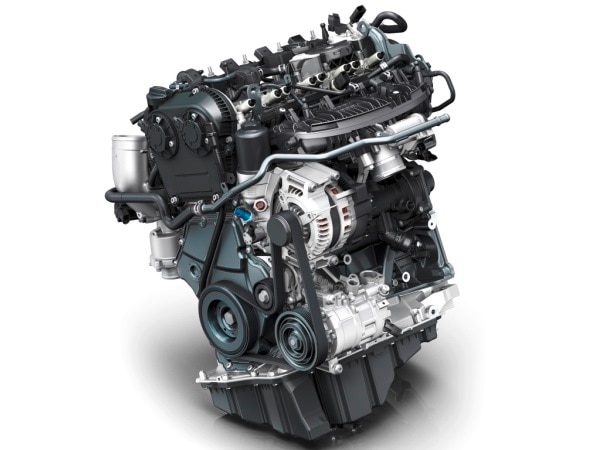 Audi used the Vienna Motor Symposium to unveil its new 2.0 TFSI engine calling "the most efficient 2-liter gasoline engine in its class." Set to launch in the next-gen Audi A4 bowing September at the Frankfurt Auto Show, this new variation on the well-proven turbocharged/direct-injected engine relies on a breakthrough in combustion technology to crank out 188 horsepower and a stout 236 lb-ft of torque, the latter delivered from 1,450 to 4,400 rpm. This should add a new dimension to the dynamic character of the new A4. Describing it as an exercise in "rightsizing" -- which involves "optimizing the interplay of vehicle class, displacement, output, torque and efficiency characteristics under everyday conditions" -- Audi also notes the engine returns the equivalent of 47 mpg on the European NEDC, a stat validating its claim to class-leading fuel-frugality.
Also: Class of 2016 -- New Cars Ready to Roll
First of what the automaker says will be a new family of engines, this latest 2.0 TFSI 4-cylinder matches a comparatively short intake stroke with forced-induction, in this case, turbocharging to ensure an ideal air/fuel mix in each cylinder at all times. Beyond its unique combustion technology, the new 2.0 TFSI also incorporates numerous other efficiency-enhancing design touches from lightweight construction and reduced internal friction to accelerated coolant warmup intervals and an exhaust manifold which is cast directly into the engine's cylinder head.
Also: Kelley Blue Book Best Buy Awards of 2015
"Thanks to this rightsizing approach, the new 2.0 TFSI enjoys the consumption benefits of a downsized engine in partial-load operation, while at higher loads it has the advantages of a large-displacement engine", notes Dr. Stefan Knirsch, Head of Engine Development at Audi. "The result is optimal efficiency and performance characteristics across the entire engine speed range."
More Audi News...
The 2015 Audi A3 has earned a Top Safety Pick+ mark from the IIHS
Quick take: 2016 Audi A6 3.0T Quattro Prestige
Audi will launch more plug-ins and an EC Crossover by 2018