Mitsubishi Concept PX-MiEV II - 2011 Tokyo Auto Show
by
KBB.com Editors
|
November 29, 2011 1:24 PM
Providing an early look at what it believes is a viable mid-size plug-in hybrid (PHEV) SUV, the Mitsubishi Concept PX-MiEV II made its world debut in Tokyo. Matching the latest generation of the automaker's EV technology borrowed from the new i-MiEV/Mitsubishi i with a small gasoline engine and a sophisticated all-wheel-drive package culled from the Lancer Evolution X, this multifaceted five-passenger hauler offers outstanding overall efficiency and exceptional dynamic qualities.
The Concept PX-MiEV II's drivetrain consists of two 80-horsepower electric motors, one at each axle, and a 94-horsepower 2.0-liter MIVEC four-cylinder gasoline engine/generator. Capable of operating individually or in concert, that combo allows the vehicle to travel up to 31 miles on electric power alone, cruise for nearly 500 miles before needing a refill/recharge and return over 140 mpg in combined economy while delivering acceleration comparable to that of a conventional SUV fitted with a 3.0-liter V6.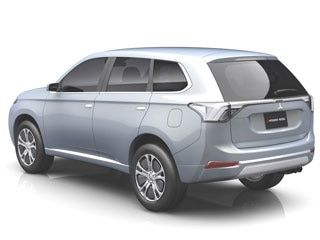 The control system in the Concept PX-MiEV II is designed to automatically start the engine and have it operate in generator mode when battery charge levels slip below a certain threshold level. The driver also can choose to manually engage the Battery Drive Mode for pure EV running or Battery Charge Mode that helps replenish the pack while the vehicle is in motion. In addition to its regular plug-in charge port, the Concept PX-MiEV II has an additional outlet that can be tapped into as a power point for small electric appliances.
To ensure superb handling and add a measure of fun to the driving experience, the Mitsubishi Concept PX-MiEV II integrates its PHEV package with the advanced S-AWC (Super-All Wheel Control) traction control system that was originally developed for use on the high-performance Lancer Evolution X sport sedan. As a finishing touch, the Concept PX-MiEV II is fitted with 235/55 tires wrapped around custom 18-inch lightweight alloy wheels.