Mini Rocketman Concept -- Geneva Auto Show
by
KBB.com Editors
|
February 23, 2011 1:30 PM
An innovatively styled one-off that reportedly embodies a number of potentially very real production elements, the Mini Rocketman Concept is scaled much like the original Mini but features both design and material technologies that speak far more directly to future brand offerings.
>See more new cars unveiled at the 2011 Geneva Auto Show
Barely five inches longer than the original Mini, this striking three-door was created to be an all-around efficiency expert that advances the fundamental brand values while expanding on the cool character and premium flair of its larger Mini mates.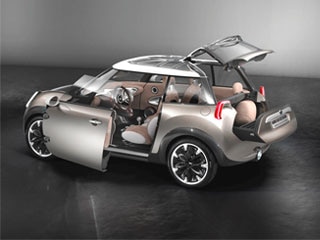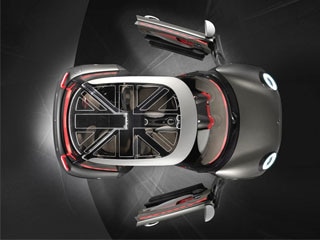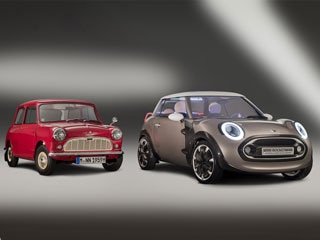 Like the upcoming BMW i3 city car of its parent company, the Mini Rocketman Concept is built around a light but super-rigid carbon-fiber monocoque structure, a good deal of which remains visible, both outside and within the cabin. The exterior design keeps the family cues and proportions, but displays a new interpretation of the details. Oversize round LED headlamps feature a light-ring surround while the stirrup-style rear lamps are fitted with high-output LEDs for the tail/brake/directionals.
To facilitate access into its 3+1 cabin, the Mini Rocketman's generously proportioned doors also incorporate the lower sills and swing open and out on unique exposed double-hinge-design carbon-fiber pivots. The car also has a full-glass roof with illuminated bracing elements configured to look like a classic Union Jack. On a more practical note, the Mini Clubman boasts a large two-piece tailgate that consists of a high-lift, centrally-hinged upper element that extends deep into its roof and a smaller bottom-hinged lower component that can extend outward from the body nearly 14 inches to form a drawer that can be locked into either of two positions, depending on cargo/people space demands.
The Mini Rocketman Concept's inner sanctum reflects the same kind of envelope-expanding approach as does its exterior. Covered in leather, high-gloss paint and trim bits made from a special pressed-and-formed paper fitted with LED-powered fiber-optic elements that provide ambient lighting, the look is even more avant-garde. While the restyled dash still retains a large center speedometer, a new generation of high-res 3-D graphics adds visual punch and allows the driver to prioritize the information displayed to personal preference. All key system control switchgear has been repositioned onto a revised multifunction steering wheel.
The Rocketman Concept also takes the Mini Connected system to a new level of interactive versatility when handling various navigation, audio and communication functions. Key to the upgrade is a removable control unit (for comfort and connectivity functions) that's integrated into the speedometer. It can be configured on a personal computer before the start of a trip and will allow the system to quickly and easily transfer music files, destination points, and contact details for mobile communications and internet devices.
To facilitate quick and easy reconfigurations, the Mini Rocketman has a 3+1 seating arrangement similar to the one used in the Toyota iQ city car. The nicely-bolstered thin-line front buckets and the passenger-side individual rear seat offer fore/aft adjustability aimed at serving full-time duty while the decidedly more minimal perch behind the driver features a handy fold-down backrest but offers space and comfort best taken in short doses by even shorter occupants.
Mini limited its comments on the Mini Rocketman's motivation to the cryptic admission that it's "designed to allow the integration of a drive system which combines further enhanced sprinting ability with average fuel consumption of just three liters per 100 kilometers (78.4 mpg U.S.)." Reading between the lines, there's good reason to suspect that an advanced turbodiesel package or more likely a gas/electric hybrid mix will be found underhood. We should know more when the wraps come off at the show.
Exactly how much of the Mini Rocketman Concept will make production is likely to remain topic of speculation for some time to come. However, given the iconic automaker's track record in the showcar-to-showroom derby, we'd suspect a fair amount of what you see is also what you're likely to get in a mini Mini variant that will arrive the 2013-2014 time window.