Mini Paceman Concept - 2011 Detroit Auto Show (w/video)
by
KBB.com Editors
|
December 20, 2010 1:53 PM
Providing an early peek at what execs say "could form yet another building block in the development of the MINI brand," the Mini Paceman Concept makes it first public appearance at the North American International Auto Show. The automaker calls it the first "Sports Activity Coupe" in the premium small segment of the market. We're just calling it cool.
Spirited style

Based on a dedicated version of the new Mini Countryman platform and capable of being produced in either front-drive or the ALL4 four-wheel-drive configuration that's used on this well-finished one-off, the Mini Paceman boasts its own unique visual treatment designed to emphasize a wider, more horizontal character. While the Paceman's front clip shares the Cooper S Countryman grille, it gains larger lower air intakes, and adds bigger, more rakish looking headlamps and revamped foglamps.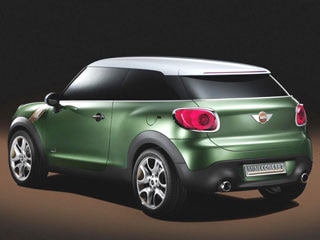 Bolder blackout fender flares and side skirts, new side indicators and 19-inch alloy wheels speak to the Paceman's sporting personality as do its longer, single side doors, more aggressively contoured rear fenders and revised taillamps that are positioned further outboard of its generously-scaled one-piece rear hatch to enhance the Paceman's lower/wider image. The most prominent departure from traditional Mini style is seen above the Paceman's beltline, where blackout pillars and a contrasting "helmet" roof panel work with tapered rear windows to create a more wedge-shaped form.

Inside, the Mini Paceman Concept gets a similar helping of custom touches that range from light-tone leathers and extended variations on the elliptical door trims elements that also house speakers for the audio system to bespoke storage compartments, special armrests and Paceman-specific door pulls. The most radical departure is found in the aft quarters, where a pair of individual rear seats feature backrests that merge into the side bolsters in a way that enhances support while creating a "club lounge" feel.
Exhilarating performance

In keeping with its goal of appealing to youthful urban enthusiasts, power for the Mini Paceman Concept comes from the most potent motivator in the Mini menu: the John Cooper Works-spec 1.6-litre twin-scroll turbocharged four that makes 211 hp and 192 lb-ft of torque which can be increased to 207 lb-ft for brief periods of maximum acceleration thanks to its Overboost function.
"With the MINI Countryman having already opened up a fascinating new avenue in the expansion of the brand family, the designers are now tapping into the potential of its state-of-the-art drive technology and flexible space concept to develop additional market opportunities in a coupe sibling," explained Jochen Goller, MINI Director for BMW UK Ltd. "The MINI Paceman Concept aims to deliver a particularly emotional driving experience and demonstrates this ability in a style typical of the brand. I believe we are offering clear evidence of how totally new vehicle concepts can still be developed through unconventional creativity."