Mini Cooper Coupe Prototype revealed - Official spy shots
by
KBB.com Editors
|
June 6, 2011 2:20 PM
Although pricing and on-sale date for the 2012 Mini Coupe have yet to be finalized, the factory has just released a series of exterior images showing a lightly-disguised prototype version undergoing final evaluation testing along with a comprehensive tech rundown about this diminutive sportster. Based on the existing Mini platform and categorized by the automaker as a "super-compact sports car," the front-drive Coupe breaks new design ground on a number of fronts, the most prominent being that it's the first of the family to feature seating for just two people and the first to adopt a traditional "three-box" body configuration. According to Mini, its sprightly newcomer also will raise the already lofty overall performance benchmarks for the marque, using a combination of powertrain, suspension, weight distribution and aerodynamic properties to deliver "the best performance statistics ever recorded by a volume-produced Mini."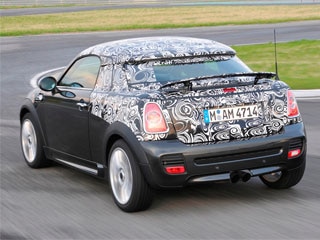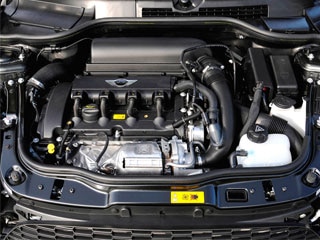 While distinctly different in character, the design of the new Coupe's bodywork does incorporate a number of familiar visual cues that leave no doubt about its lineage. Length and width are virtually identical to the existing hatch model, but the Coupe is 1.1 inch lower and topped with a unique "helmet roof" that flows back from thinner and more steeply-raked A-pillars that further set it apart. In addition to a fixed spoiler lip integrated into the roof, the new Coupe also boasts Mini's first-ever active rear spoiler. Mounted in the decklid, it automatically deploys at 50 mph and retracts at 37 mph, adding an extra measure of overall handling stability by reducing rear lift.
Like its more conventional kin, the new 2012 Mini Coupe will offer a choice of three different 1.6-liter gasoline engines and two transmissions in U.S. spec. Anchoring the lineup, Mini Cooper Coupe fits the existing naturally aspirated 121-horsepower four while the Cooper S and John Cooper Works (JCW) versions get the familiar turbocharged/direct-injected alternatives that make 181 and 208 horses, respectively. A super-light six-speed manual transmission is standard in all Coupe variants, while the Cooper and Cooper S also can also be had with an optional six-speed Steptronic automatic that offers a steering-wheel mounted paddle shifter upgrade. Mini says the new Cooper Coupe can hit 60 mph in 8.3 seconds while the Cooper S and JCW iterations will make that sprint in 6.5 and 6.1 ticks, respectively.
Intent on adding a new dimension of precision as well as all-out fun to the Coupe's handling, engineers made numerous focused tweaks to the basic Mini package. Reinforcements to the front, rear and side sills body endow the Coupe with it with even better overall torsional rigidity that the hatch, and its weight distribution has a slightly more forward bias to improve traction. The Mini's existing MacPherson strut/multilink suspension setup and electric-boosted power steering also have been optimized for this application, and like the chassis tune and wheel/tire fitments, the four-wheel anti-lock disc brakes also are model-specific. Dynamic Stability Control is standard on all three Mini Coupe variants, with the JCW model adding DTC (Dynamic Traction Control) with EDLC (Electronic Differential Lock Control), a feature optional on its lesser siblings.
Mini has yet to release any photos or specific details about the interior of the production Coupe, which -- based on the original concept shown at the 2009 Frankfurt Auto Show -- will almost certainly share most of its look and feature set with other current Mini products. However, we have been advised that the Coupe's headliner features a pair of concave oval recesses that improve headroom and that its "spacious" and "extremely adaptable" trunk is easily accessible via the car's wide-opening decklid. Expect the full show-all/tell-all when the 2012 Mini Cooper Coupe formally bows in at this year's Frankfurt show, in September.