Military Tribute Camaro to be auctioned to benefit wounded veterans
by
KBB.com Editors
|
December 12, 2011 1:10 PM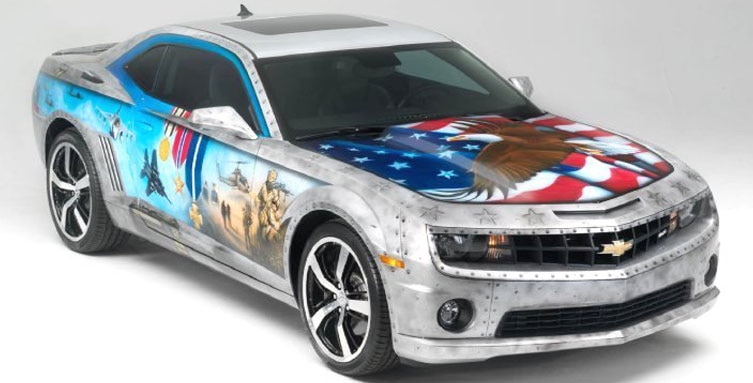 This past weekend's annual Army-Navy football game had one unique first-time attendee courtesy of the Chevrolet Division of General Motors. A special Military Tribute Camaro made its debut appearance prior to heading west, where it will sold at next-month's Barrett-Jackson auction with proceeds going to help support the Achilles Freedom Team of Wounded Veterans. Designed by award-winning artist Mickey Harris, the graphics on the Military Tribute Camaro honor members of all five service branches, as well as several of the highest individual awards and current campaign medals.
The Achilles Freedom Team was established to help wounded veterans overcome their injuries through participation in mainstream athletics, primarily marathons. This year, Chevrolet underwrote a portion of the organization's costs for participating in the Los Angeles, Boston and Detroit marathons, as well as various other events. It also donated 20 hand cycles to the team.
"We at Chevrolet want to do all we can to show our gratitude to the men and women serving in our armed forces, those who come home with life-changing injuries and our fallen heroes who have made the ultimate sacrifice for their country," said Chris Perry, vice president, Chevrolet Global Marketing and Strategy. CBS-TV showcased the Military Tribute Camaro in a special segment with GM CEO Dan Akerson, himself a graduate of the U.S. Naval Academy.