Mercedes-Benz SLS AMG E-Cell Prototype: Electric Dream Machine
by
KBB.com Editors
|
June 24, 2010 4:39 AM
Although still at least a couple years off, Mercedes-Benz has released new photos and technical details about what to expect when its electric-powered supercar, the SLS AMG E-Cell, finally does roll onto the scene. Based on this high-profile preview, it appears the zero-emissions version of M-B's gullwing road warrior will have no trouble opening a new era in the premium automaker's storied history.
Look beyond that eye-searing paint -- officially called out as AMG Lumilectric Magno -- and you'll note the SLS AMG E-Cell's appearance retains all of the key cues found on its gasoline-powered kin. The most notable detail changes include a slightly wider grille, and an extended front apron with an auto-deploying and driver-adjustable front splitter that works in concert with the car's rear spoiler and unique diffuser to increase overall high-speed downforce. Also in the E-Cell remix are restyled hood air outlets and LED headlamps plus a unique staggered-size wheel/tire fitment that wraps featherweight 19-inch black-finish 10-spoke AMG alloys with 265/35 tires up front and 295/30 tires on 20-inch rims in the rear.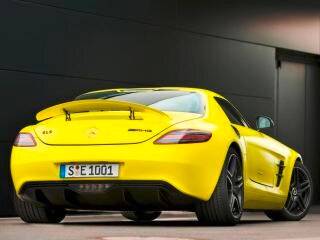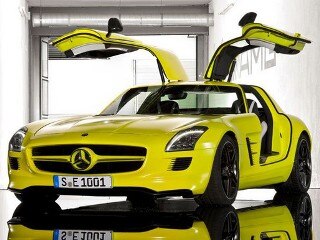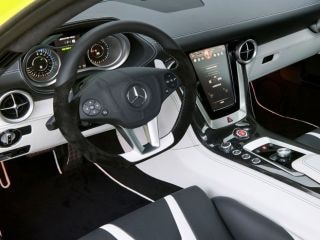 The recipe for green lighting
Beneath its hand-formed aluminum bodywork, the Mercedes-Benz SLS AMG E-Cell keeps the basic SLS-spec aluminum understructure. However the drivetrain and suspension have undergone some significant tweaks in transitioning to EV duty. For openers, the AMG 6.2-liter naturally aspirated V8 that makes 563 horsepower and 479 lb-ft of torque has been jettisoned in favor of four electric motor/generators that collectively turn out 526 horses and 649 units of twist, all of that torque from zero rpm.
Each motor is positioned adjacent to its respective wheel and each axle carries a transmission that pairs the two. Power is provided by a tri-module 400-volt liquid-cooled lithium-ion-polymer (Li-poly) battery pack that has its elements positioned low in the vehicle ahead of the firewall, in the central tunnel and behind the passenger cabin. On the chassis front, the rear multilink setup carries over, but the front underpinnings have gone from conventional control arms to a multilink alternative with racing-style pushrod damper struts to accommodate the new packaging requirements. Huge (15.8-inch front/14.2-inch rear rotors) but super-light carbon-ceramic brakes do double duty here, providing loads of fade-free stopping capability with 40-percent less unsprung weight as well as assisting in on-the-fly power regeneration.
Mercedes says that despite its unspecified extra mass, the E-Cell variant is expected to be almost as quick---0-60 mph comes in 4.0 seconds instead of 3.7 ticks---and handle just as well as the baseline SLS AMG model. No word on how far it will travel in full attack mode, but a nominal minimum of 100 miles per charge would seem to be a reasonable starting point.
Inside its well-finished cabin, trimmed here in a black and white premium leather/alcantara mix, the SLS AMG E-Cell boasts its own unique selection of detail changes. A dedicated AMG instrument cluster shows speed, range and state of battery charge while a redesigned center console stack is fitted with a 10-inch multi-media touch-screen display controls all basic audio/climate/navigation functions and graphically tracks power use/regen status in real time.
Fully engineered and impressively finished even in prototype form, the Mercedes-Benz SLS AMG E-Cell is part of the company's larger overall strategy entitled "AMG Performance 2015" which aims to continually reduce fuel consumption and emissions in all of its vehicles. With any luck, this electric-powered gullwing wonder will be able to start out on that mission by 2013.