Mercedes-Benz reveals new super-efficient AMG 5.5-liter V8
by
KBB.com Editors
|
July 22, 2011 10:03 AM
Claiming that it packs a level of advanced technology unequalled by any engine on the market today, Mercedes Benz has high taken the wraps off of a new AMG 5.5-liter V8 that will make its debut in the next-generation SLK-Class which will appear at the Frankfurt Auto Show. A tour de force in efficiency, this latest addition to the AMG engine arsenal not only brings a substantial bump in power and torque compared to its V8 predecessor but promises to match superior performance with roughly 30 percent better fuel economy numbers and 30 percent lower CO2 emissions.
A close relative of AMG's M157 twin-turbo 5.5-liter currently used in the E63 AMG, CLS63 AMG, S63 AMG and CL63 AMG, the naturally aspirated DOHC M152 V8 shares the same displacement and bore/stroke dimensions as well as many internal mechanicals. Its common design thread also extends to elements like the high-pressure direct fuel injection system and econo-enhancing start/stop technology. However, the M152 goes its own way in several areas, including redone cylinder heads and intake plumbing, redesigned crankcase and oil supply system, modified valve drive/variable camshaft timing and most importantly, the fitment of AMG Cylinder Management, a fuel shutoff system inspired by the one used on M-B's Formula One engines.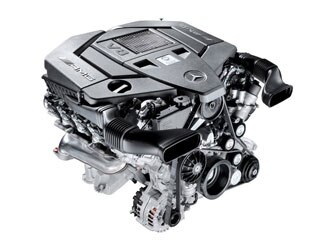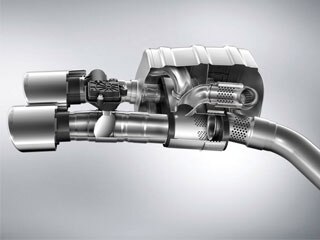 The real-world payoff? Nestled in the engine bay of the new SLK55 AMG, this new V8 will be tuned to make 422 horsepower and 398 lb-ft of torque, gains of 62 and 22 output units, respectively. Mercedes says that even in its mileage-maxing four-cylinder mode -- which can be activated at engine speeds between 800-3,600 rpm when the driver punches the "C" button on the transmission and selects "Controlled Effficiency" operation -- the M152 will always be capable of delivering at least 170 lb-ft of twist. As a final fuel-saving flourish, this new V8 is fitted a generator management system that reduces engine load by using kinetic energy that would normally be lost as heat to help recharge the battery.
Further downstream, AMG fitted the engine with two more innovative touches. Underhood, each cylinder bank sends exhaust into a pair of tandem catalytic converters that are adjacent to the firewall and closer to the engine rather than under the car. The first uses a palladium-coated substrate and the second a palladium/rhodium mix, a package that collectively permits even leaner and more efficient overall operation. To ensure the engine has a proper performance sound, AMG also fitted the M152 with its first-ever sports exhaust system. It relies on an electronically adjustable, multi-position flap in each of the two rear muffler units to route exhaust gasses under specific load and rpm conditions in a manner that creates a proper sonic signature.
Expect to hear more news on the M152 V8 as well get an early look at the new 2012 Mercedes-Benz SLK55 AMG as we get a bit closer to its official Frankfurt coming out party in September.