Mercedes-Benz F125! Research Vehicle - Frankfurt Auto Show
by
KBB.com Editors
|
September 13, 2011 2:01 PM
Adding a high-profile exclamation point to its 125-year history of innovation, the Mercedes-Benz 125! Research Vehicle was a surprise show-stopper in Frankfurt. According to the automaker, this fuel-cell equipped, all-wheel-drive, super sedan "anticipates future trends and paves the way for innovative large and luxurious automobiles." Given that focus, it also presages the kind of longer-range thinking that will shape the character of M-B's future generation S-Class/CL-Class - and possibly other models in its lineup - with an estimated arrival time in showrooms starting around 2025.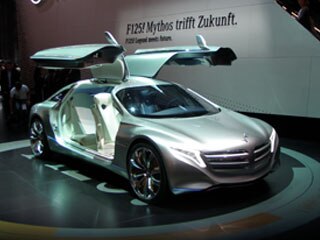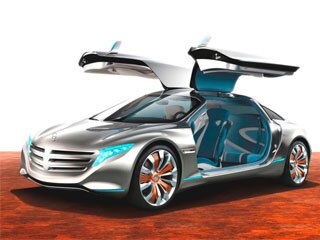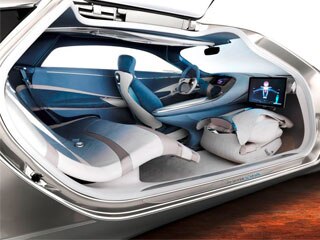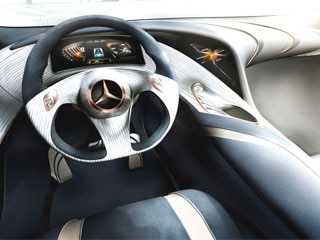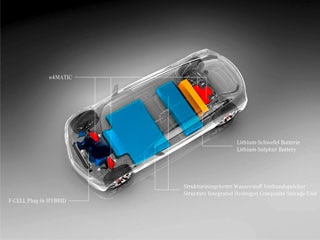 As for its scale and proportion, the Mercedes-Benz F125! is nearly four-inches shorter than today's standard-wheelbase S-Class but more than four inches wider and has a huge, 131.2-inch wheelbase -- 6.6 inches greater than the current long-wheelbase model. The exterior treatment of the F125! exhibits influences from both the F800 Style Concept that was displayed at the 2010 Geneva show as well as from the SLS AMG. It also introduces a number of new flourishes to the mix, including the execution of its grille and lighting elements and unique 23-inch alloy wheels wrapped in 245/35 tires.
Innovative hybrid construction that integrates a large portion of carbon-fiber reinforced plastic (CFRP) with an "intelligent" mix of carbon fiber, aluminum and high-strength steel helps cut total platform weight of the F125! to around 3,750 pounds. That formula allows it to maintain sufficient strength and rigidity to permit the absence of a B-pillar and the fitment of large but light gull-wing doors -- that can be activated by hand gestures.
Beneath its skin, the F125! boasts one more equally important design facet: It's the first vehicle to integrate the tank for its hydrogen fuel directly into the floor assembly of the bodyshell structure. According to Mercedes, that represents a technical revolution that opens the door to cars capable of delivering diesel-like range with no impact on interior space. Unlike conventional high-pressure tanks that require an inefficient cylindrical shape to cope with up to 10,000 psi of internal pressures, the unit in the F125! is designed to carry about 16.5 pounds of hydrogen at just 435 psi or less. That key difference allows for a flat tank that packages better and can serve as a structural element.
The hydrogen carried by the F125! is used to feed a new and even more powerful version of M-B's F-CELL fuel-cell stack mounted under its hood. The car also is fitted with a 10kWh lithium-sulphur battery located behind the rear seats. Energy from the two sources is sent to four electric motors, one at each wheel. All are linked via a sophisticated version of M-B's e4MATIC system that uses components borrowed from the SLS E-CELL and provides enhanced energy regeneration capability. Collectively, the package can develop 228 continuous horsepower and 308 peak ponies with a claimed 2,537 lb-ft of total wheel torque. As for performance, the Mercedes-Benz F125! is configured to be both a sprinter and a long-distance runner. Capable of accelerating from 0-62 mph in a projected 4.8 seconds and topping out at 137 mph it also can travel up to 621 miles - 31 on battery power alone - before needing to be refilled with hydrogen or plugged into a charging unit.
Inside, the F125!'s four-passenger cabin is an exercise in next-gen technology with respect to for comfort, convenience and safety. It's advanced "@yourCOMAND" telematics system offers an always-connected look at tomorrow's infotainment systems by integrating gesture control with conventional voice commands and allowing the driver to have full seamless access to in-car and cloud-based Internet functionality. In addition to helping lower overall stress levels, it incorporates a "Social Community Assistant" that can selectively allow or block access from others. High-resolution digital screens offer customizable 3D displays of the F125!'s main instrumentation as well as provide a look at surrounding traffic in a manner that eliminates the need for rear-view mirrors. There's also a 17-inch multifunction screen on the passenger side.
In keeping with its corporate philosophy, the Mercedes-Benz F125! Research Vehicle complements its bounty of conventional safety systems with a host of new Advanced Driving Assist functions and Car-to-X communication capability. Enhanced with these kinds of high-tech helpers, Mercedes feels the touring sedan of tomorrow will make its driver more adept at avoiding or coping with both seen and unseen road hazards.